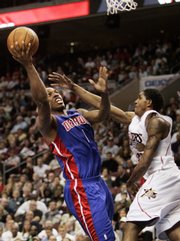 Philadelphia — The Philadelphia 76ers got the Detroit Pistons' attention. Then they got steamrolled.
The Pistons powered into the second round of the playoffs by crushing Philadelphia, 100-77, on Thursday night, winning the series 4-2 and again demonstrating how good they are when they feel they need to be.
Detroit convincingly won the last two games of a series that wasn't expected to last this long. The Pistons will play host to the Orlando Magic, who eliminated Toronto in five games, on Saturday in the opener of the Eastern Conference semifinals. The teams split four meetings this season.
"Philadelphia probably woke us up," Detroit coach Flip Saunders said. "Over the last 10 quarters we've executed as well as we can."
Richard Hamilton hit his first five shots during Detroit's overpowering start and finished with 24 points, 13 in the decisive first quarter when he outscored the 76ers by himself. Chauncey Billups added 20 points and Tayshaun Prince had 12 for the Pistons, who reached the second round for the seventh straight season.
They were all on the bench for nearly the entire fourth quarter, when the lead ballooned over 30 points. Detroit held Philadelphia without a field goal for nearly the first six minutes of the game, ending any real hopes the Sixers' had of forcing a Game 7 back in Michigan.
Andre Iguodala scored 16 points and Andre Miller had another quiet game with 11 for the Sixers, who outplayed the heavily favored Pistons for the first 31â2 games of the series, but never really had a chance after that.
"It's difficult because it's our home court and we wanted to play well," Miller said. "We were maybe a half away from going up 3-1. We kind of fell apart after that."
The second-seeded Pistons won 59 games during the regular season, second-best in the NBA behind Boston. But they quickly found themselves trailing the upstart 76ers, who were just 40-42, 2-1 then fell behind by 10 points at halftime of Game 4.
Detroit rallied to win that game, then trailed for only 23 seconds over the final two mismatches. As easy as the Pistons' 98-81 victory in Game 5 was, they had even less trouble in this one, racing to a 10-0 lead and never giving the disappointing crowd of 14,130 a chance to get into the game.
Copyright 2018 The Associated Press. All rights reserved. This material may not be published, broadcast, rewritten or redistributed. We strive to uphold our values for every story published.