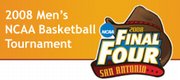 Get your March Madness fix at KUSports.com.
Perhaps the historic nature of the event, the first Final Four to include the top seeds from all four regions, will take on greater significance when the teams gather in San Antonio.
But before moving on to the culmination of the 2008 NCAA Tournament, it deserves a salute for making the first two weeks so memorable. And its stubborn resistance Sunday raises the question of whether a program's reputation can be diminished by advancing to the national semifinals.
Certainly, Kansas did little to enhance its status as a giant in college basketball, barely hanging on against a Davidson team that was shorter and slower but better prepared and more determined. KU coach Bill Self, who finally achieved a personal breakthrough in his fifth crack at a regional final, likened the relief to shedding a 1,200-pound gorilla. Maybe his team will perform a lot better at the Alamodome when it picks on someone its own size, North Carolina.
Indeed, he suggested after the tense 59-57 victory that Davidson's lack of basketball prestige - what he acknowledged as the "wow factor" - may have worked against his players.
The survival of Kansas was a mixed blessing for Roy Williams, who still cares enough about the institution that gave him the opportunity to prove himself as a head coach. Twice while he was at Kansas, he had to match wits with Dean Smith, the Carolina legend who was his mentor, and his eyes welled up on both occasions.
"I have the greatest love for a place I gave my heart, body and soul to for 15 years," he said after the Tar Heels beat Louisville. "I have no idea what my emotions are going to be. I know when I was at Kansas and we played North Carolina in '93 and '94, I said I hated it ... I will never play the University of Kansas in a regular-season game. It will have to be in a tournament."
It is, and for the right to play for the title Williams won at Carolina in 2005 after four futile trips to the Final Four with Kansas.
Though UCLA and Memphis don't present the same complicated relationship, it was the Bruins who defeated the Tigers in the Elite Eight two years ago. And it was the Tigers who played the foil to UCLA's Bill Walton the only time they made it to the title game. In fact, Memphis is the only one of the four remaining programs that has not won it all.
Consider that UCLA has 11, Carolina four and Kansas two. They rank among the bluest of bluebloods in the sport. In contrast, Memphis is a distinct outsider, hailing from a downgraded, one-bid conference.
All the more reason, of course, for the Tigers and calculating coach John Calipari to carry the biggest chip into battle Saturday. He certainly had his team stoked in Houston, where it obliterated Michigan State and Texas.
By the same reasoning, UCLA is credited with 17 Final Four appearances after its place in the 1980 title game under Larry Brown also was vacated. Carolina also has been to the promised land 17 times and the co-record holders will offer one of the more desirable championship matchups in recent years - there's that "wow factor" again.
Even though all No. 1s are equal, some are more equal than others.
Copyright 2017 The Lawrence Journal-World. All rights reserved. This material may not be published, broadcast, rewritten or redistributed. We strive to uphold our values for every story published.