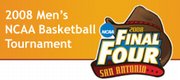 Get your March Madness fix at KUSports.com.
Houston — D.J. Augustin calls Houston home - sort of. It's his home now, but it's not where he grew up and built his childhood memories.
It's not where he earned his cherished high school letterman's jacket with two state championships. That home, back in what had once been the soulful city of New Orleans, no longer exits.
Augustin and his family fled New Orleans in advance of Hurricane Katrina in 2005, leaving friends and most of their personal belongings behind when the levees broke, swamping their house under stinking floodwaters.
They settled in Houston, where Augustin spent his senior year of high school sticking close to family and throwing his heart into basketball until it was time to go to the University of Texas.
Augustin is back in Houston again, trying to lead the Longhorns (31-6) past Memphis (36-1) in the South Regional final today and into the Final Four.
"Houston is a home to me now," Augustin said Saturday. "But New Orleans will always be my home in my heart.
He was already one of the most cherished point guard recruits in the country when the storm struck.
Copyright 2018 The Associated Press. All rights reserved. This material may not be published, broadcast, rewritten or redistributed. We strive to uphold our values for every story published.