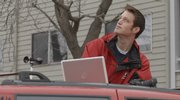 When most people see a tornado, they have two basic instincts: Run for cover or run the other way.
But for Darin Brunin, a Kansas University student and a storm chaser, the sight of a tornado causes exactly the opposite reaction.
Brunin has been interested in tornadoes since at least 1991, when an F-2 tornado passed just a mile or two from his house. Five years ago, the 23-year-old Rossville native decided instead of waiting for the tornados to come to him, he was going to go find them.
"That's when the madness started," Brunin joked. "It's kind of like a chess game. If you don't forecast a storm right, then you miss it."
Brunin and his friends, including Johnson County Community College student Dick McGowan, this spring will again pile into a well-traveled Jeep loaded with computers, cameras, GPS locators, a broadband Internet connection and other electronic gizmos.
If they've done their forecasting properly, they'll soon end up on the periphery of a major storm as it bears down on some community. Brunin and McGowan were following the tornado last May that leveled Greensburg. The group of storm chasers were among the first outsiders into the flattened town, and their footage of the tornado and the destruction was played over and over again on local and national news networks.
But sometimes the forecasting doesn't go so right, and then two things may happen. The storm chasers are left under clear blue skies while the action happens miles and miles away. Or they can find themselves inside the tornado.
Brunin said about this time last year, his group fell victim to the second scenario.
"I got hit by a tornado," Brunin explained with remarkable calmness. "We were just north of Sedalia, Missouri, and the storms were moving very fast. We'd just seen a big, milewide tornado pass us, but there was another storm behind it.
"You could see the grass taper. We could feel the Jeep we were in getting picked up. My hands were on the dash bracing to get thrown off the road."
But just like that, the storm passed. Two months later, Brunin would find himself in Greensburg - an experience he says he'll never forget.
"It was a pretty traumatic experience," Brunin said. "We were on the scene from the very beginning."
Brunin said he's seen massive tornadoes, a mile across or more, but until May 2007, he'd never seen a storm as powerful as the one in Greensburg. He says he's still haunted by the experience.
"I'd have to say it's probably one of the biggest experiences of my life," Brunin said. "Not the tornado, because it was night and you couldn't get the full effect, but going into the town 15 minutes after the tornado went through."
McGowan, who first witnessed a tornado when he was 10, echoed his friend's comments.
"It was surreal," he said. "It's the worst thing I've seen in my life. I think about it 10 times a day still."
McGowan said chasing with Brunin is good because they have similar styles. They tend to be aggressive about what storms they chase, and they're both at the same point in their lives - college students with an education as their primary concern.
But both McGowan and Brunin admitted that classes can sometimes get in the way of a chase.
"Basically, you don't miss a class until you want to chase," McGowan said. "It's very difficult, especially with finals around the peak time for eastern Kansas."
Brunin, who plans to graduate in December, said he won't ever give up chasing. In fact, as he looks for a job, he's excited about one possibility because his prospective boss is also interested in chasing storms.
"As I get older, I realize I'm going to have to concentrate on a job," Brunin said. "I can accept sometimes that you can't chase."
Copyright 2018 The Lawrence Journal-World. All rights reserved. This material may not be published, broadcast, rewritten or redistributed. We strive to uphold our values for every story published.