2008 NCAA Tournament
Photo Gallery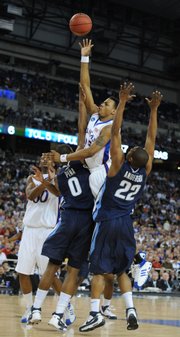 KU vs. Villanova
Detroit — Lots of hugs. Lots of silence. And very little that Villanova could've done to prevent it.
A somber Villanova locker room was a foregone conclusion early in Kansas University's 72-57 basketball victory over the Wildcats on Friday. Kansas cruised and advanced to the Midwest Regional final of the NCAA Tournament, while Villanova finished with a 22-13 record.
It was won early, when the Wildcats fell behind, 26-10, fought back, but never cut the deficit to fewer than seven points.
That was that - a 12 seed finally falling after two improbable NCAA Tournament victories.
"For some reason, we're always starting slow," forward Dwayne Anderson said. "We knew it would eventually catch up to us, and tonight it did."
Villanova coach Jay Wright thought his team had a good game plan going into Friday's Sweet 16 showdown at Ford Field. But he said two things turned it to mush right away and made many of the 57,028 fans go home early with the game out of reach:
¢ Kansas, which was on fire early, made Villanova's game plan nearly impossible to execute.
¢ The Wildcats didn't play with enough toughness to hang with the Jayhawks, who improved to 34-3 and will play Davidson on Sunday with a Final Four berth at stake.
"You've got to play great team defense," Wright said. "You can't make mistakes defensively. You just got to play solid because they're going to make some shots.
"And offensively, when you get your looks, it's simple. You got to make your shots. We were 3-of-17 (from three-point range). We had a lot of good looks. You got to be solid."
Villanova needed good scoring days out of guard Scottie Reynolds and forward Dante Cunningham. Neither came about, with Reynolds scoring just 11 points and Cunningham adding 10.
The Wildcats had five assists to 14 turnovers. They were atrocious from long range and only a little better from inside the three-point arc.
Most of all, they didn't have the talent to keep up with so much going so wrong.
"We had some layups, some threes. Didn't make them," Wright said. "You got to have everything work for you. As I said before this game, we had to play our best game. We didn't tonight.
"I was a little disappointed in our effort, but you've got to give Kansas credit for that."
Copyright 2018 The Lawrence Journal-World. All rights reserved. This material may not be published, broadcast, rewritten or redistributed. We strive to uphold our values for every story published.