Photo Gallery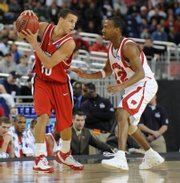 Davidson vs. Wisconsin
Detroit — During a timeout midway through the second half, Davidson College's band broke into Neil Diamond's "Sweet Caroline" as its adoring fan base sang along.
"So good! So good! So good!" they screamed.
Sure is.
Itty-bitty Davidson is floating today, after the 10th-seeded Wildcats knocked off third-seeded Wisconsin, 73-56, in an NCAA Midwest Regional semifinal on Friday at Ford Field.
With the victory, Davidson (29-6) has won 25 in a row, and will play Kansas on Sunday.
The winner will go to San Antonio for the Final Four.
"I am completely at ease," Davidson coach Bob McKillop said afterward. "I've never felt confidence with a group like I've felt confidence with this team."
Here was the fun part about Friday's stomping: By the end of the game, Davidson had 20 times as many fans at Ford Field as it has students at the tiny, 1,750-person campus in Davidson, N.C.
What's not to like? Davidson is playing great basketball at the perfect time. Skin-and-bones guard Stephen Curry had 33 points Friday, many in a fashion that dazzled the humming crowd. He now has 103 points in three NCAA Tournament games, quickly becoming the most talked-about player in the postseason.
"Steph," teammate Jason Richards said, "can do it all."
Once again, Curry's late-game surge proved breath-taking. He scored 22 in the second half Friday, and 77 of his 103 points in the tournament have come after halftime.
"I try not to force anything," Curry said. "It's hard for a defense to sustain itself for a full 40 minutes. Eventually you find yourself open."
He was open for six three-pointers Friday. Many came off feeds in transition by Richards, Davidson's talented point guard who had 11 points, 13 assists and no turnovers.
"Unparalleled," McKillop said of Richards' line.
Still, it was Curry who stole the show. The play of the night came with 9:07 remaining, when Richards dished to Curry in the midst of a backdoor cut. Curry went up and under the rim, made the beautiful lay-up and was fouled to put icing on the cake.
The 57,028 fans in attendance were amazed. Curry got a standing ovation when he left the game for good with Davidson up big.
"I stopped being awed with Steph Curry in December of last year," McKillop said of the 6-foot-3 guard who averaged 25.7 points per game entering Friday. "What he did tonight is what I expect out of him."
Ready or not, Davidson has crashed the Elite Eight party, beating Gonzaga, Georgetown and Wisconsin when seed indicated it should've been going home after the first round.
Afterward, Davidson's players jumped up onto the court, which is set up 27 inches above the bench. The pro-Wildcats crowd went wild behind them, but there was no uncontrollable celebration after yet another titan fell.
A businesslike victory by Cinderella? Well : no, not really.
"Yeah, there's a lot of emotions running through our body right now," Richards said, "but I think we were just plain ol' exhausted after the game."
Tired, but triumphant. Itty-bitty Davidson will take it every time.
Copyright 2018 The Lawrence Journal-World. All rights reserved. This material may not be published, broadcast, rewritten or redistributed. We strive to uphold our values for every story published.