Photo Gallery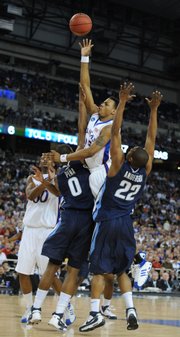 KU vs. Villanova
2008 NCAA Tournament
Some thoughts...from Detroit
Gary Bedore, Journal-World KU men's basketball beat writer
"KU's Robinson and Rush were on fire early and the Jayhawks were able to survive some foul problems of Rush and Chalmers the second half. Now KU must play THE hottest team in basketball. Anybody overlooking Davidson, which has won 25 in a row is making a big mistake."
Tom Keegan, Journal-World sports editor
"All that stands in the way of the Final Four for Kansas is Davidson's Stephen Curry, nothing less than the best player in the NCAA Tournament. He's a terrific ballhandler, a terrific passer, and the best shooter to come along in years, none of which makes him more than a prohibitive underdog against a Kansas team that certainly looks to be peaking at the perfect time."
Ryan Greene, KUSports.com editor
"Russell Robinson was phenomenal early on both ends, and Mario Chalmers' personal 8-0 run after 'Nova closed to within single digits in the first half certainly deserves mention. As for beating Davidson Sunday? Simple formula. KU has to come out hot on both ends as it has in the first three games in this tournament, allowing the Jayhawks to go into a bit of cruise control against a broken-spirited, overmatched opponent. Also, gathering hustle rebounds underneath will be key, as that's how Davidson overcame a size disadvantage inside all night against Wisconsin."
Inside the numbers
15: Russell Robinson's 15 points were certainly impressive, especially the 13 he scored right off the bat in the first half. He nailed three deep balls pretty early which helped KU gain valuable separation on the scoreboard, then defended his butt off against Scottie Reynolds, leaving the 'Nova point guard's young supporting cast flummoxed and scrambling. He was the key, no question.
3: The Villanova team that scorched the nets and played a bit above its head last Sunday in advancing out of the first weekend against Siena not only struggled to get open looks from the outside against KU, but couldn't hit the ones it did earn. The Wildcats were just 3-of-17 from range, just a piece of a rough 21-of-59 overall shooting performance.
16: Brandon Rush scored a team-high 16 points for the Jayhawks, and did so in a diverse fashion. He hit just one three-pointer, hit a couple mid-range jumpers and got to the rim a bit. His most impressive points came with some improvisation off a busted alley-oop pass from Robinson, which accidentally went off the glass at a weird angle, forcing Rush to adjust midair. He still slammed it home.
21: Sherron Collins caught a bit of the tonsillitis which affected Rodrick Stewart a week ago in Omaha. He still managed to play 21 minutes, scoring four points, dishing four assists and registering two steals. He wasn't at full strength, though, as he's been of late. Robinson's play and nine big minutes off the bench by Jeremy Case helped mask that a bit.
29: Sasha Kaun was big off the bench in 29 minutes, playing his usual active role under the bucket, finishing with nine points and seven rebounds. All of it was needed on a night where Darrell Arthur was again limited due to early foul trouble and Darnell Jackson struggled a bit to trap rebounds in the first half.
Just in case you missed it...
The atmosphere was certainly not that of your traditional college basketball game. The cavernous Ford Field setting kept things from getting too loud, but the setup certainly was not as dangerous as it appeared during Thursday's practices. No one took any dives off the floor in risky fashion, and when Mario Chalmers appeared to be coming close to doing so, he dove on the floor to try and save a ball instead. Davidson's fans were by far the loudest all night, though KU's may have been the most abundant. That should make for a solid setting Sunday afternoon.
Hopefully you didn't miss it...
KU has found a solid formula so far in the NCAA Tournament, coming out with a great amount of energy early on and putting overmatched foes in their place early on. The Jayhawks did so again Friday night, showing diversity offensively and dominance defensively in opening up an insurmountable 19-point halftime lead. Jeremy Case's three right before the break was a good ending to the opening half.
They said it...
Jeremy Case on his nine minutes of run: "I don't think that was the plan, but some guys got in foul trouble, and I've gotta always stay ready. I wanted to take advantage of it...But coming in, Sherron was kinda under the weather and everything. I thought I might need to be ready and that's what I was...If my team needs me, I'll be ready, but these guys got us here, and I'm fine with them playing. As long as they're performing I'm happy."
Jeremy Case on imparting wisdom from Elite Eights past on his younger teammates: "The thing is we've gotta finish games. If you go back, it was all one possession. And that's the mindset we've gotta have is that every possession counts. I'm gonna be sure to install that in these guys' minds."
Russell Robinson on Scottie Reynolds: "It was great for us, not letting him get going. He's a great guard and he can really score in spurts. We cut that off, eliminated that and really opened up a nice lead."
Russell Robinson on Stephen Curry: "He can get his shot off at any time, got a quick release and he's a great shooter. He's gonna have the whole nation rooting for him. It's a tough challenge for us, nothing new. We've played against A.J. Abrams, D.J. Augustin and those guys all the time, so I think we're well prepared for this game, now we've got to come out and play with a lot of energy."
Darrell Arthur on the upcoming challenge against Davidson: "Last year, I think we made a lot of mistakes. Turned the ball over a lot against UCLA, and I think that's the key, we've just gotta take care of the ball. They run a lot of stuff, and we've gotta go over their stuff a lot. We've gotta know the scouting report, know who they're trying to get the ball to. Obviously Curry, and we've got to try to knock the head off, not let him get off."
Bill Self on Jeremy Case's minutes: "I've said all along he's the best shooter and all that, and of course he looked like it on that shot he took the first half. He's waited his time for five years to make that, for that one possession, because I thought that was a big-game possession, and I was really happy for him."
Bill Self on Russell Robinson: "I thought Russell was the key to the game for us. We talk about that all the time as far as whoever the point guard is is not letting him do what he does to allow their team to run good offense. In Scottie's case, he not only has to direct the offense, but he's got to score, too. And I thought Russell did a really good job of not letting him ever become comfortable."
Bill Self on the other key to the game: "This sounds very cliche-ish, but I thought the key to the game was who got 70 percent of the 50-50 balls, because Villanova is one of the best loose ball teams we've played all year long."
Bill Self on Davidson: "We talked about 'em in general. We got here early enough, our guys are pretty loose, so they want to watch TV. They watched Davidson play, and they're in there...they couldn't believe how good they looked. They really enjoyed watching them play. I hope they enjoy guarding them as much as they did watching them."
Bill Self on Stephen Curry: "I don't think anybody's done a real good job guarding him, obviously, but I'm not sure how you do it. They run great stuff. (Davidson coach Bob McKillop) knows that he's gotta get shots, so everything they do has counters to them being defended by switches or by traps or by whatever. And he still gets shots off. We're watching him play, and he's scoring over double teams against Georgetown, with the best defensive team percentage-wise in the country. So he's very impressive."
Bill Self on Sherron Collins' illness: "He's got what Rod had. He had that tonsillitis deal. He didn't practice, didn't go to shootaround today, just laid in bed all day, but I was glad he was out there, even though he wasn't himself, he certainly bailed us out with his minutes when we got in foul trouble."
Copyright 2018 The Lawrence Journal-World. All rights reserved. This material may not be published, broadcast, rewritten or redistributed. We strive to uphold our values for every story published.