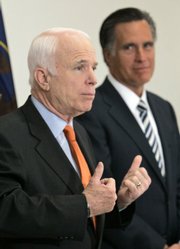 Salt Lake City — In a show of Republican unity, one-time bitter foes John McCain and Mitt Romney raised money and campaigned together Thursday for a single goal: getting McCain elected president.
"We are united. Now our job is to energize our party," the Arizona senator said in an airport hangar, flanked by Romney and Utah Gov. Jon Huntsman Jr., an early McCain supporter. Both have been mentioned as potential vice presidential picks, and McCain praised each.
Romney lauded McCain and promised to do all he can to help, saying: "He is a man who is proven and tested" and without question the right man to be president.
In February, Romney won 90 percent of the vote in Utah to McCain's 5 percent. Romney's ties to the state run deep, from his Mormon faith to his work overseeing the 2002 Olympics in Salt Lake City.
"Look, that wasn't the only state I lost to Governor Romney in - it was just the largest loss,' McCain said chuckling. He joked that it was abject humiliation but understandable given Romney's Utah links. "I was at least hoping to break into double digits though!"
"I think he did just fine in New Hampshire, South Carolina, Florida, California ...," Romney said, laughing about states McCain won.
The two then headed to Denver for another fund-raiser accompanied by Meg Whitman, the outgoing chief executive of eBay Inc. and a former Romney backer who now supports McCain.
On the flight, there seemed to be little residual acrimony between the former rivals.
They sat next to each other and ate turkey sandwiches. They laughed and talked during the hourlong flight, and were complimentary of each other when talking to reporters traveling with McCain.
Copyright 2018 The Associated Press. All rights reserved. This material may not be published, broadcast, rewritten or redistributed. We strive to uphold our values for every story published.