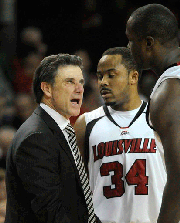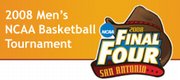 Get your March Madness fix at KUSports.com.
Charlotte, N.C. — Tennessee's Wayne Chism tried to pick up the loose ball, only to be quickly outnumbered. Louisville's Earl Clark and Preston Knowles both dove to the floor, and the ball deflected off Chism out of bounds.
It was what Rick Pitino loves: down and dirty defense, floor burns and hustle, and it's left the Cardinals' coach a victory away from a sixth trip to the Final Four.
Clark scored 17 points and had 12 rebounds, and Pitino's mix of defenses made life miserable for Tennessee in a 79-60 victory Thursday night that put third-seeded Louisville in the East Regional final.
Pitino, who has won an NCAA title and taken three schools to the Final Four, has Louisville playing its best basketball of the season when it counts most. After Louisville's two blowout wins last weekend, Pitino's signature zone and pressure limited the high-scoring Volunteers to 34-percent shooting. The veteran coach improved to 8-0 in regional semifinals and secured a date with top-seed North Carolina on Saturday night.
"One of the keys on defense all year has been changing it up," Pitino said. "When you give any good team a steady diet of one defense, it's not quite as good. We extend our zone almost like a half-court trap, and we don't give the wings good looks."
Terrence Williams and Andre McGee each added 13 points and David Padgett had 10 points and eight rebounds for Louisville (27-8), which nearly blew all of a 16-point first half lead, only to take control midway through the second half. The Cardinals are vying for their second Final Four trip in six years under Pitino. He also took them there in 2005.
"The last three games, our offense and our defense have both been clicking," Pitino said. "There have been games where our offense has clicked or our defense has clicked, but our defense has stayed constant most of the year."
Chris Lofton scored 15 points for No. 2 seed Tennessee, but was 3-for-15 in his final game with the Volunteers (31-5), who have never advanced beyond the round of 16.
After a horrible start, Tennessee got within 37-36 early in the second half thanks to its own defensive pressure, which forced 20 turnovers.
But then the springy Clark, who has come on in the NCAA tournament, had a driving layup, hit a baseline jumper and converted a three-point play in a 13-5 run.
Louisville's defense didn't allow Tennessee to get back in it again, and the Cardinals hit all nine free throws over the final 5 minutes to keep Tennessee at bay.
"I've been coaching a long time and never has the tempo of the game been dictated so much by an opponent," Tennessee coach Bruce Pearl said. "We usually dictate tempo. We attacked the pressure and we had opportunity to hurt the press, but we just didn't finish."
JaJuan Smith added 12 point and Tyler Smith had 11, but the Volunteers continued their NCAA tournament shooting slump.
Tennessee went 5-for-20 from 3-point range and finished 11-for-58 in three games. It was another disappointing end for Pearl, who has resurrected the program at Tennessee in his third season, but hasn't been able to get the Vols into the round of eight.
The Volunteers, who were outrebounded 43-28, dropped to 0-5 in regional semifinals and finished with a school record for victories in a season.
"This doesn't take much away from the finest season in the history of Tennessee basketball," Pearl said. "No team has accomplished the things these guys accomplished this year, and I'm awfully proud of them."
Things couldn't have started much worse for the Volunteers. Chism picked up two fouls in the first 2 minutes and Louisville's extended 2-3 zone bottled up Lofton, their leading scorer.
When the Cardinals weren't turning it over, they were scoring off easy baskets in transition. Pearl had called two timeouts by the time Louisville took a 24-8 with 8:58 left.
Tennessee got within seven at halftime, then cut the deficit to one early in the second half, despite getting little from Lofton.
Lofton, who came in third in NCAA history with 429 3-pointers, saw a defender in his face every time he got the ball. He missed his first seven 3-point attempts.
Lofton was 2-for-11 from 3-point range, and could only watch Louisville celebrate in the final minute from the bench.
"They wouldn't leave me," Lofton said. "It was tough to get my shot off. They're a great defensive team."
It left the Cardinals looking ahead to Saturday's game against North Carolina, the toughest test yet for their vaunted defense. The Tar Heels will also be playing a virtual home game just over two hours from its Chapel Hill campus.
The teams were set to meet in an early season tournament in Las Vegas, but the Cardinals were upset by Brigham Young.
This time Pitino and the Cardinals, who have won 12 of 14, are a confident bunch thanks to their defense.
"It's improved a lot over the course of the season," McGee said. "Coach has talked deny pressure, and trying to force steals and turnovers. Today, as far as offense, we did a terrible job in the first half - we had a lot of turnovers - but we handled their pressure pretty good. We stepped it up in the second half."
Copyright 2018 The Lawrence Journal-World. All rights reserved. This material may not be published, broadcast, rewritten or redistributed. We strive to uphold our values for every story published.