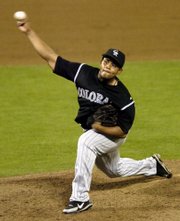 Surprise, Ariz. — Right-hander Ramon Ramirez was acquired by the Kansas City Royals from the Colorado Rockies for a player to be named on Wednesday.
The Royals also traded outfielder-first baseman Justin Huber to San Diego for a player to be named, and assigned right-handers Roman Colon and Chin-hui Tsao and catcher Ken Huckaby to minor-league camp.
Kansas City also designated left-hander Jorge De La Rosa for assignment and optioned right-hander Kyle Davies to Triple-A Omaha, clearing the way for left-hander John Bale and right-hander Brett Tomko to get the final two spots in the rotation.
Right-hander Hideo Nomo, who hasn't pitched in the majors since 2005, could start the season on the disabled list after pulling his groin against San Diego on Tuesday night.
The 26-year-old Ramirez, once one of the top prospects in Colorado's system, set team rookie-reliever records with a 3.46 earned-run average and 61 strikeouts in 61 appearances in 2006. He opened his career in the majors with 151â3 consecutive scoreless innings and finished his rookie year 4-3.
But Ramirez struggled with an elbow injury last season, going 2-2 with an 8.31 ERA in 22 games for Colorado. He was 4-0 with a 2.28 ERA in 25 appearances for Triple-A Colorado Springs.
Manager Trey Hillman said Ramirez would be on the Royals' opening-day roster as a late-inning reliever.
Nomo, a nonroster invitee signed to a minor-league contract, was a bullpen candidate after going 1-0 with a 4.80 ERA in seven spring games.
De La Rosa was a candidate to fill one of the final two spots in Kansas City's rotation, but he had a spring ERA of 8.03 and allowed four runs in four innings his last outing.
Davies, who was acquired in a trade in July with Atlanta for Octavio Dotel, was 1-0 with a 4.00 ERA in three exhibition games.
Huber came up through the Mets organization as a catcher, but switched to outfield and first base after being traded to Kansas City in 2004.
The 25-year-old Australian won the Texas League batting title and was the MVP of the Futures Game in 2005, but has been stuck behind a glut of outfielders and first basemen in Kansas City. Huber hit .346 with seven RBIs in 26 spring at-bats.
Copyright 2018 The Lawrence Journal-World. All rights reserved. This material may not be published, broadcast, rewritten or redistributed. We strive to uphold our values for every story published.