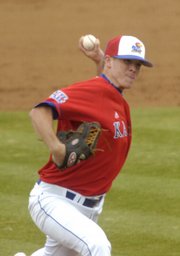 The Kansas University baseball squad faced two opponents Wednesday at Hoglund Ballpark and was able to follow the same formula in each: Productive offense and solid pitching equals convincing victories.
KU completed a sweep of its two-game series with Chicago State with a 12-0 victory in the afternoon, then followed with a 7-2 victory over Benedictine College.
"I felt like some guys who had been struggling got it going a little bit (at the plate)," Kansas coach Ritch Price said. "I thought we had some better at-bats today. I actually thought in the first game we hit some balls really good that didn't go anywhere in that wind, but we definitely made some progress."
Just a day after what Price said was one of the team's worst offensive performances, the consistent bat of John Allman led the Jayhawks' torrid offense in the afternoon game.
Allman, who raised his batting average to .367 for the season, went 3-for-3 and knocked in a pair of runs.
Preston Land picked up a pair of hits in both games. Land collected two doubles in a 2-for-2 performance against Chicago State and had another two-bagger in his 2-for-3 game in the evening.
"Preston had himself a really nice day, and, obviously, for us to be good, he's got to hit," Price said of Land, who had an RBI in each game. "So that's really great to see."
The run support against Chicago State was plenty for starting pitcher Shaeffer Hall, who gave up just two hits and had five strikeouts in five innings to earn his second win.
Kansas' second-game starter, Hiarali Garcia had some struggles in the early innings. Garcia gave up three of his five hits in the first inning, but limited Benedictine to its only two runs.
Freshman T.J. Walz took over for Garcia in the fourth inning and went 51â3 innings to earn his second win of the season. Walz allowed just one batter to reach base - a double in the seventh - and struck out six before turning it over to Brett Bochy for the final two outs.
"I was pretty nervous my first couple of outings, and I've just loosened up, and (I'm) having more fun now and feel more confident," Walz said.
¢Marks to red-shirt: Junior Andy Marks will be red-shirted for the 2008 season because of a shoulder injury sustained playing summer baseball.
The left-handed pitcher has been attempting to recover from surgery in September on the labrum in his pitching shoulder.
"He's not ready to contribute at this point in time," Price said. "He'll have an MRI (today), and I think psychologically, that will allow him, hopefully, to take the next step forward. He'll have to fight himself through it. But we've made that decision."
Copyright 2018 The Lawrence Journal-World. All rights reserved. This material may not be published, broadcast, rewritten or redistributed. We strive to uphold our values for every story published.