Photo Gallery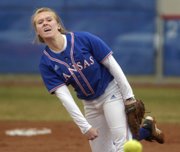 KU softball vs. Missouri State
Betsy Wilson's Kansas University softball teammates aren't calling her Babe Ruth. At least, not yet.
Wilson slugged her second home run of the season Wednesday as the Jayhawks swept Missouri State, 4-3 and 8-0, at Arrocha Ballpark.
"You love to see that," KU coach Tracy Bunge said. "You don't expect that pop from her."
In fact, Wilson went into her senior year with zero home runs. In her two previous seasons with the Jayhawks - she spent her freshman year at Arizona - Wilson managed only two extra-base hits, both doubles, in 166 at-bats.
But Wilson, a willowy 5-foot-5 outfielder who usually bats ninth, slammed her first career homer at a tourney in Las Vegas a few weeks ago, then she belted a line drive over the left-field fence in Wednesday's nightcap for her first round-tripper at home.
"The odds of her hitting one home run this season were high," Bunge said. "But she's been on the ball better this year."
For her part, Wilson really has no explanation for her sudden power.
"I'm the same person," she said with a smile. "Lately, I've just been seeing the ball really well and getting the bat in the right spot."
Curiously, the only player on the KU roster who is smaller than Wilson, second baseman Sara Ramirez, also homered in the same inning. But Ramirez, who stands 5-2, has shown occasional power in the past, as evidenced by her six home runs last season and her three this year.
"We've seen Ramirez do that," Bunge said. "She takes a hack. She doesn't get cheated."
In the first game, freshman right-fielder Liz Kocon did most of the damage with three hits, including a solo home run and the game-winning single with one out in the bottom of the seventh.
Kocon, a 5-7 left-handed hitter from Katy, Texas, has taken over in right field after a slow start caused, in part, by a knee injury she suffered during fall ball.
"She missed some valuable time in the off-season," Bunge said. "She has a lot of potential. She's a very good right-fielder, and she has some power. That's why we brought her here."
Kocon's homer was her second of the season. On the day, she was 4-for-6 with two runs scored and two RBIs.
"It's been an adjustment," Kocon said. "The pitching is a lot different than high school and so's the whole speed of the game."
Junior shortstop Stevie Crisosto also homered in the opener, her first of the season.
Kansas (25-8) will resume Big 12 Conference play with home games Saturday and Sunday afternoons against Texas Tech.
Copyright 2018 The Lawrence Journal-World. All rights reserved. This material may not be published, broadcast, rewritten or redistributed. We strive to uphold our values for every story published.