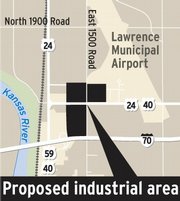 Developers proposing an industrial park near the Lawrence Municipal Airport did their best Wednesday to convince city commissioners that the project was financially feasible.
Lawrence developer Jes Santaularia told commissioners that his group would pay $1 million to have water and sewer service extended to the area, if the city and county would agree to pay a little more than $2 million to cover other immediate infrastructure needs.
Several city commissioners said Santaularia's offer to help pay for the infrastructure costs was welcome but stopped short of saying they were ready to support the project.
"I think this puts it in the realm of feasibility, but there are a lot of other intangibles to consider," said City Commissioner Rob Chestnut, who was particularly concerned about stormwater issues.
Originally, city staff members estimated that about $8 million worth of infrastructure improvement needed to be made to accommodate the project, which proposes to build an approximately 145-acre business park near the intersection of U.S. Highway 24-40 and North Seventh Street.
But Santaularia said about $5.9 million of those estimated costs are for road improvements that don't need to be completed for at least five years, and only if the business park successfully attracts a number of tenants. Santaularia said if the park successfully attracts tenants, it will produce more than enough new taxes to pay for the road improvements.
City staff members said they would have to further analyze Santaularia's assumptions before deciding whether the projects could realistically be delayed.
Santaularia proposed to pay half the costs: $1 million for sewer and water improvements in the area. He proposes that the city pay the remaining $1 million in water and sewer costs but said the city would get good value for the investment because it would allow the Lawrence Municipal Airport to hook up to water and sewer service.
Santaularia also wants the city to pay for about $400,000 in stormwater improvements, which he said is needed even without the development. He's proposing the county pay for about $1.1 million in road improvements to the intersection of U.S. 24/40 and North Seventh Street. He said that intersection needs improved regardless of whether his project moves forward.
"We would like the city to look at this project as a catalyst to provide future funds for other improvements that need to be made in North Lawrence," Santaularia said.
But opposition from neighbors remained stiff. A crowd of about 50 people showed up at the afternoon study session. They continued to express concerns that the project would worsen flooding in North Lawrence, create traffic problems for neighborhoods and take prime farm ground out of production.
City Commissioner Mike Dever said it would be difficult to support the project with such strong neighborhood opposition, especially given that the proposed business park doesn't have a tenant in waiting.
"I think we all know that we need new places for new jobs, but there are still an awful lot of hurdles for this project to overcome," Dever said.
City Commissioner Boog Highberger also expressed some reservations, although he said the financial picture of the project seems to have improved.
"I'm still not convinced this is the best use for that property," Highberger said. "Twenty years from now, I think we would be very pleased to have prime agricultural ground right next to the city."
Copyright 2018 The Lawrence Journal-World. All rights reserved. This material may not be published, broadcast, rewritten or redistributed. We strive to uphold our values for every story published.