2008 NCAA Tournament
Photo Gallery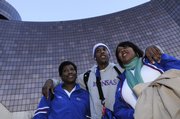 Jayhawks head to Detroit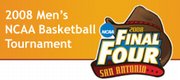 Get your March Madness fix at KUSports.com.
Detroit — Kansas University's basketball players and coaches received a hero's welcome upon arriving at the Hyatt Regency Dearborn hotel just after 8 p.m. local time Wednesday.
The U.S. and state of Michigan flags whipping in the breeze in front of the massive hotel were joined by a KU flag, recognizing the fact the Jayhawks are in town for Friday's 8:40 p.m. Sweet 16 game against Villanova at Ford Field.
Coach Bill Self was the first off the team's Indian Trails bus - which received a police escort into the parking lot -and was the only member of the hoops traveling party to speak to media members.
"We're happy to be here," Self said. "There's no tee time (for him) this week. To be honest, we may need to wear some boots, winter clothes or ski clothes. I heard it may snow Thursday night."
The Jayhawks, who practiced in Lawrence on Wednesday, were to hold a 50-minute shootaround from 3:10 to 4 p.m. EDT today at Ford Field. That practice is open to the public.
Self had good news to report as far as the health of his team heading into the weekend.
"Sherron is fine. He practiced today. He's moving around decent," Self said of sophomore guard Sherron Collins, who has been hobbled by a bruised left knee. "He'll be ready to go.
"Rodrick (Stewart) is fine. His tonsillitis has gotten a lot of attention, far more than it deserves. He's practiced the last two days and actually looked pretty good. Everybody is practicing. Everybody is fine."
Self is not worried about distractions in the Detroit area this weekend.
"Knock on wood," he said. "I don't think we'll have as many people around (the team). Not that our fans won't come here, but Omaha was such a short drive last weekend. It's not just distractions at a site, it's distractions as far as getting your rest. I've harped on it enough I think the guys are buying into that."
The guys will be getting plenty of rest Friday with the game not tipping until 9:40 EDT.
"I'm not crazy about that (game time)," he said. "Not because of when we play, but how to keep guys occupied and focused over a long period of time. It's not often coaches tell guys to stay in bed, don't get up until 11 (a.m.) and have to shorten the day by doing different things. We were always concerned on Big Monday playing at 8 o'clock. Basically we'll be tipping at 10 at night. I told our guys it's 9 our time. Our bodies shouldn't be different."
Copyright 2018 The Lawrence Journal-World. All rights reserved. This material may not be published, broadcast, rewritten or redistributed. We strive to uphold our values for every story published.