2008 NCAA Tournament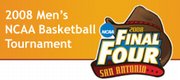 Get your March Madness fix at KUSports.com.
Politicians' brackets
The mathematicians at the College of Charleston aren't the only ones weighing in on the NCAA tournament. A smattering of politicians also are letting their sports allegiances out into the public light.
Barack Obama has KU losing to North Carolina in the Final Four. No word on how that will affect his support in the Sunflower State, but North Carolina doesn't vote until May, so perhaps Obama is looking to one-up candidate Hillary Clinton.
Speaking of Clinton, Bloomberg reports that she has deferred to her husband, Bill Clinton, to make the picks. Bill Clinton, in turn, has passed on sharing a bracket publicly.
John McCain also has KU in the Final Four and also losing to North Carolina. Could it be payback for Kansas lending its support to Mike Huckabee?
As for Gov. Kathleen Sebelius, she had all her bases covered this weekend. The Wichita Eagle reported she wore two jackets in Omaha, Neb.: one purple and one blue.
If 1+1=2 and 2X3=6, then Kansas will win the NCAA championship this year.
No joke.
A pair of mathematics students at the College of Charleston in South Carolina have developed several extremely complex algorithms that accounted for more than 5,000 regular season and conference title games for most of the NCAA men's basketball teams. When Neil Goodson and Colin Stephenson put it all together using various models, one team kept coming out as the winner: Kansas.
"We looked at it like an RPI (Ratings Percentage Index) ranking. The team that was ranked higher in each match is going to go on," Stephenson said.
In essence, the No. 1 ranked team will be the champion every time, but there could be upsets along the way based on the pairings set by the NCAA search committee versus the way the computer system would have seeded a bracket.
"Kansas is No. 1 the most out of all of the teams," Stephenson said. "They were first 10 or more times out of the 30 or so brackets. All together, we've had UNC, Kansas, Memphis not so much, Texas, Duke, Tennessee and UCLA win it all."
All this mathematical work isn't done purely for the sake of beating Vegas or winning bragging rights with friends; Goodson and Stephenson developed this research as part of a class project for their operations research class. Operations research involves applying mathematical models to real-world situations.
Self-described basketball nuts - Stephenson for Duke and Goodson for Tennessee - went a different path than their classmates when they decided to do a sports-related project.
"We're not sitting here thinking we're going to have a perfect bracket," Stephenson said. "We just want to see how we score against an average person."
Of the four different primary models they've used, the system that's proven most successful thus far is one that gives double weight to wins in the last two months of the season.
"We think a game that's been played at the end of the year is more important. A team that's hot at the end of the year is going to do better than a team that wins in November," Stephenson said.
That bracket, which is in the upper echelon of the rankings on ESPN.com, has all four No. 1 seeds in the Final Four and KU winning it all. Lending credence to its validity, it also predicted Kansas State's victory over University of Southern California and Texas A&M;'s victory over Brigham Young University.
Copyright 2018 The Lawrence Journal-World. All rights reserved. This material may not be published, broadcast, rewritten or redistributed. We strive to uphold our values for every story published.