Photo Gallery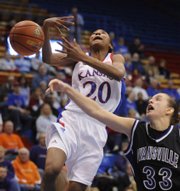 KU women vs. Evansville
See you in Michigan, boys.
Kansas University's women's basketball team has earned a trip to the Wolverine State, too.
The distaff Jayhawks will play at Michigan State on Thursday night, thanks to an 82-60 pounding of Evansville in a WNIT second-rounder on Monday night in Allen Fieldhouse.
"We're hoping we'll get some people to come over and see us," KU coach Bonnie Henrickson said.
The Kansas men will, of course, be playing in the NCAA Midwest Regional in Detroit, and the Motor City is just about 85 miles east of East Lansing, home of the Spartans. The men will meet Villanova on Friday night.
Both KU teams will be leaving Lawrence on Wednesday and flying separate charters to their next appointed rounds.
"We'll be able to see both games," said Jim Marchiony, KU associate athletic director, "and that's great."
Great pretty much describes how the KU women played Monday. They shot 56 percent (33 of 59) including a torrid 9-of-13 from three-point range. Moreover, the Jayhawks compiled a whopping 22 assists to just 13 turnovers.
In other words, it didn't look like a team that had lost six of its last seven games and finished tied for 11th place in the Big 12 Conference. Then again, this was the first time KU had played a nonconference foe since it met Xavier way back on Jan. 4.
"In the Big 12, every night you're in a battle," said Kelly Kohn, who scored 10 points off the bench. "Evansville came to play, but it's good to see another team."
Echoed Danielle McCray, who led the Jayhawks with 20 points: "It seems like Big 12 teams take away all your looks. They take everything away."
Evansville, co-champion of the Missouri Valley Conference, took nothing away from the KU offense. In fact, the 82 points were the Jayhawks' second-highest point total of the season. Their high-water mark was 91 against Creighton, also an MVC team.
Evansville (21-12) was buried under a 24-point deficit early in the second half, but made a run, shaving 11 points off the Jayhawks' lead. But then Kansas (17-15) went on a 9-0 run spurred by McCray, who contributed a three-point goal, a stick-back and a layup off a turnover.
"The knockout punch," Henrickson said.
Nine Jayhawks scored at least two points, but McCray was the difference, according to Evansville coach Tricia Cullop.
"McCray is a fantastic player," Cullop said. "Her speed and athleticism are things that we have not seen the likes of this season. She was a handful for us to contain."
Sade Morris was a handful, too. Morris scored 16 points while nailing all three of her three-point attempts. That's half as many treys as she had made the entire season. Prior to Monday, Morris was a shaky 6-of-25 from beyond the arc.
"This is our NCAA Tournament," Morris said. "This is a new season for us. It is a clean slate and we are just looking to start over."
Michigan State won't be easy, particularly on the road where Kansas hasn't won since the last time it played a nonconference team - that Xavier game on Jan. 4.
Early in the season, Evansville suffered a 20-point loss to the Spartans in East Lansing, yet Aces coach Cullop likes the Jayhawks' chances.
"We had trouble matching up with their athleticism in the post," Cullop said, "but I think Kansas matches up better than we did."
Notes: With a big lead late, Henrickson had a rare opportunity to clear her bench. Marija Zinic and Katie Smith made only their fourth appearances of the season while Rebecca Feikert made her season debut. : Krysten Boogaard recorded her fourth double-double with 10 points and 11 boards. : KU's 13 turnovers were only one off their season low. :If KU wins at MSU, the Jayhawks would play host to another WNIT game next Monday.
Copyright 2018 The Lawrence Journal-World. All rights reserved. This material may not be published, broadcast, rewritten or redistributed. We strive to uphold our values for every story published.