Photo Gallery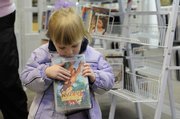 Being frugal in Lawrence
On the street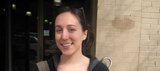 I try to buy things that are used instead of new. We have quite a few vintage clothing stores here in Lawrence, so I try not to shop for new clothes.
-->
Sure, there are ramen noodles.
Yes, there are those funny-looking light bulbs that require a home equity loan to purchase, but energy experts swear they will save you money in the long run.
And, of course, there's a seat waiting for you on the bus.
Even the freest of spenders have heard of those routine ways to save a little money during tight times. But for those of you who are still getting used to being cheap, here are 10 ideas that can work to save a little money in Lawrence right now.
1. Get used. Buying used merchandise isn't what it used to be. There are still the traditional thrift shops, but there's also a whole new class of stores that resell other people's lightly used merchandise. Anjelica Burris, with the Lawrence-based used clothing store Plato's Closet, said the store only accepts merchandise that is less than 2 years old. She said consumers often can get an outfit at half the price of new. The concept isn't just limited to clothing. Lawrence also has several stores where you can buy used home improvement products as well.
2. Head to the pool. The carpool, that is. The city of Lawrence is part of a partnership that promotes carpooling opportunities. Go to the Carpool Connection Web site at http://marc.greenride .com. According to a savings calculator on the site, a commuter who drives 40 miles per day could save about $20 a day by carpooling, once gasoline and wear and tear on your vehicle is factored in. The Web site is free, and it simply serves as a forum to connect potential carpoolers. Kind of like an online dating service. But guys, when is the last time a date ever saved you money?
3. Check it out. Everyone knows the Lawrence Public Library has books, but the place also offers free DVD rentals. With some new releases costing $3 or more at a video store, the savings can add up. The library offers both new and nostalgic releases, but their quantities are less than that of a video store. That may mean you have to wait to get your favorite movie. One way to manage that is to go to the library's Web site - www.lawrence.lib.ks.us - and put the item on hold. The library will notify you when it arrives.
4. Free kids. Several restaurants have special nights where kids eat free. There are Web sites that attempt to list the various restaurants, but the best bet probably is just to call ahead. Sandwich shops and pizza buffets in particular have adopted the practice. The freebies likely won't be on a Friday or Saturday evening, so it won't be that special night on the town type of experience. But, hey, you have kids - you're not going to have one of those anyway.
5. Grab a hoe. Food costs can be tough to control. But Jennifer Smith, horticulturist with the Douglas County Extension Service, said growing a garden might be a good strategy. She said a tomato plant, for example, will cost less than $5 but might produce 50 tomatoes during the course of a summer. Corn, peppers and beans are also good bets in Kansas. And contrary to popular opinion, gardens aren't overly difficult to grow. Smith said most people actually do too much - too much fertilizer or too much water - rather than letting the crops just naturally grow.
6. Laundry low-down. The folks at Consumer Reports offer a couple of easy tips on laundry. First, wash your clothes with cold water. Making your hot water heater work less will add up to savings. The second tip is just to let it all hang out. Put your clothes on an old-fashioned clothesline to dry. If nothing else, your neighbors will get to know you a little better.
7. Corporate welfare. Lots of companies will send you free stuff if you just ask. Some sites - www.bzzagent.com is one - will send you new products from companies if you promise to talk the products up with your friends. Not a talker? Not a problem. Some national retailers allow people to sign up for free samples via their stores' Web sites.
8. Risk reward. Increasing the deductibles on your car or health insurance programs is a pretty sure way to lower your monthly premiums, said Jennifer Hodge, an agent with Douglas County Insurance and Financial Services. Whether it is a good idea is another question. Hodge said the practice is a gamble because it could cost you big bucks if you end up having to make claims on your insurance. But if you're the gambling type, at least this bet doesn't require airfare to Vegas.
9. Free Ride. Take a spin on a stationary bike at one of the city's three recreation centers. There is no charge to use fitness and weight equipment at the Community Building, 115 W. 11th St.; the East Lawrence Center, 1245 E. 15th St.; and Holcom Park Center, 2700 W. 27th St. Sometimes, though, there may be a wait. The facilities generally have fewer pieces of equipment than health clubs, but they also don't have the monthly fee.
10. Volunteer for fun. Lots of businesses and organizations need volunteers, and sometimes they'll give you free admission or free services in return. For example, the Lied Center has a volunteer usher program. You have to work a little, but you get to see some shows for free. Golf courses also have been known to give free rounds to folks who offer a helping hand. One downside, unless you volunteer as a couple, you may have to leave your significant other at home. What, you say? Oh, you can live with that.
Copyright 2018 The Lawrence Journal-World. All rights reserved. This material may not be published, broadcast, rewritten or redistributed. We strive to uphold our values for every story published.