Photo Gallery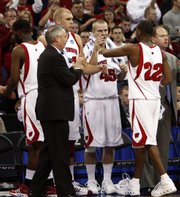 Who's in and who's out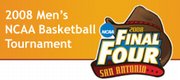 Get your March Madness fix at KUSports.com.
On the eve of the NCAA Tournament, Tim Floyd surveyed the college basketball landscape and commented: "If we're going to look back on this year, we're going to say it was the year of the freshmen."
The USC coach wasn't just referring to his own young star, O.J. Mayo. A bumper crop of newcomers - UCLA's Kevin Love, Michael Beasley and Bill Walker at Kansas State, the "Baby Boilers" of Purdue - commandeered the spotlight this season.
But in the high-pressure atmosphere of March Madness, with the field whittled down to the Sweet 16, upperclassmen are having their say.
Mayo? Gone in the first round.
Beasley and Walker? They lost to a veteran Wisconsin squad.
The Baby Boilers? They fell to more experienced Xavier.
"Everything kind of changes a little bit at this time of year," Wisconsin forward-center Brian Butch said. "And as a senior, you've been through it."
UCLA is the lone survivor with a freshman as its top producer on offense. Juniors and seniors lead 13 of the 16 remaining teams in scoring or rebounding.
Among the recently named finalists for the Naismith Award, juniors Tyler Hansbrough of North Carolina and Chris Douglas-Roberts of Memphis still have their teams in the hunt.
Seniors such as Derrick Low of Washington State and Drew Lavender of Xavier also led their teams to victories over the weekend.
Western Kentucky Coach Darrin Horn pointed to his older players as the difference in Sunday's victory over San Diego. His senior guard and top scorer, Courtney Lee, explained: "In the huddle, we had every senior speaking and being vocal out there leading the team along the way. The younger guys, they listened and just followed."
The benefits of veteran leadership can reverberate all the way back to fall practice, when teams first gather in the gym. Kansas State Coach Frank Martin talked about having to teach his new players the intricacies of the college game.
"The first time we did a scouting report meeting, they (thought) it was a joke," Martin said. "They found out it wasn't a joke. When they made a mistake because they didn't know the scouting report, they didn't get back in the game."
Veterans such as Wisconsin's Butch and DeMarcus Nelson of Duke recalled that they needed time to learn their teams' systems, the nuances of spacing and angles, and what coaches expected from them.
Social maturity is also at issue. With the lure of the NBA calling to so many young players, coaches appreciate the chance to work with what Western Kentucky's Horn calls "talented guys that are seniors that have great toughness and great character."
"I don't think you see it as much with kids going pro early," he said.
The value of experience is amplified when tournament time arrives and players must deal with cross-country travel, heightened media attention and packed arenas.
The upperclassmen don't seem to begrudge the attention devoted to players who arrived on campus only a few months ago, not when the newcomers are scoring 20 points a game and grabbing rebounds.
However, the influx of freshman talent has made some of the older guys feel, well, older. Kentucky forward Joe Crawford, a senior, said he noticed the difference in age when he stretched before games.
"You see the younger guys and how easy it is for them to get warmed up," he said.
Copyright 2018 The Lawrence Journal-World. All rights reserved. This material may not be published, broadcast, rewritten or redistributed. We strive to uphold our values for every story published.