2008 NCAA Tournament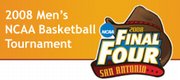 Get your March Madness fix at KUSports.com.
Philadelphia — One time, just one time, Jay Wright asked Scottie Reynolds, his star player, to stop being unselfish for a minute.
Reynolds had bounced between point guard and shooting guard for most of Villanova's season and had struggled on occasion with the constant position change. Finally, about three weeks ago, Wright sat down with him and asked a question.
"Where are you more comfortable?" the Wildcats' coach asked.
"Wherever you put me, I'll do whatever you want," Reynolds replied.
"No, I need to hear where you're more comfortable," Wright countered.
"I'm more comfortable at the point."
"Fine," Wright concluded. "That's what we'll do."
The Wildcats have thrived ever since. They are enjoying the best of both worlds with Reynolds, a guy who looks out for his teammates, finds the open man and also can score whenever he puts his mind to it.
The 6-foot-2 sophomore scored 21 and 25 points in the team's first two NCAA Tournament wins, over Clemson and Siena, while handling both teams' presses. Reynolds played a total of 72 minutes in games that started 38 hours apart.
Reynolds said it was always about the team for him, and he was happy he could help at this critical time.
"The last three weeks have been me at the point trying to make plays for my teammates," he said Monday. "We've pretty much done that in practice the last three weeks, and each day, each game, it's gotten better and better," he said. "Some games you're not going to have the best stats. But at the end of the day, it's about wins and losses."
Cunningham has seen a difference.
"He's been demanding, taking control like a big-time Big East point guard would do," the junior forward said. "Dominating, that's what he's doing."
The shifting of Reynolds between guard positions may have cost him votes for the all-Big East team. He was a unanimous preseason all-conference selection but did not make the 10-man postseason team, settling for second-team status.
"I felt bad for him," Wright said. "I knew he was not there because he was trying to do what was best for the team. But now I feel great for him because he's playing his best basketball and he knows why."
And Reynolds?
"I'm not saying I didn't care, but it's what it is," he said. "We didn't really have the best season in the Big East. Those guys on the first team deserved that."
Now it's the Wildcats playing great basketball. And the Wildcats are led by a guy who was "a McDonald's all-American handed to us on a platter." That was how Wright described Reynolds on Sunday to the national media.
The story is familiar locally. Reynolds originally committed to Oklahoma but was allowed to back out after Sooners coach Kelvin Sampson took the Indiana job. The guard called Wright to tell him he wanted to play for Villanova, a school that did not recruit him.
The national spotlight will be turned up higher on Reynolds this week when his team heads to Detroit for a Midwest Regional semifinal against top-seeded Kansas.
"It's different than what you would expect," Reynolds said. "Growing up and watching all the press conferences and practices and everything in between the games, it's hard to comprehend, me and this team being in this position. We feel fortunate."
Copyright 2018 The Lawrence Journal-World. All rights reserved. This material may not be published, broadcast, rewritten or redistributed. We strive to uphold our values for every story published.