Photo Gallery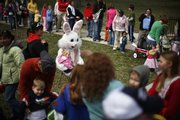 Eggstravaganza
On the street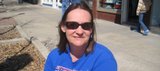 We always go to church. All my kids are older now, but we still hide the eggs just for fun. My husband has to work this year, so we'll be having Easter dinner on Saturday.
Whether it was over land or under water, no eggs were safe from the scouring children of Lawrence on Saturday afternoon.
The Lawrence Parks and Recreation Department was host to two Easter egg hunts. One was at the Lawrence Indoor Aquatic Center, the other at South Park.
Just before 12:30 p.m. Saturday, about 100 children crammed around the perimeter of the aquatic center's family pool where plastic eggs floated on top.
After aquatic programmer Jai Hoyer shouted, "Who's ready for an egg hunt?" it was a soaking wet, free-for-all.
Kids jumped in holding plastic bags, splashing and swimming until they gathered the five eggs needed for a prize.
"It was fun, but my eggs kept falling out of my bag," Jordan Myers said. The 9-year-old, who loves to swim, was celebrating her birthday at the center.
After the hunting frenzy subsided, Hoyer picked up the left-behind eggs in a laundry basket as the kids continued to swim. Hoyer said it was the novelty of an underwater egg hunt that has kept the event going for seven years.
It also helps that the event is a rain-or-shine kind of deal.
"It's great on days you might not be able to go outside," Hoyer said.
Across town at the Egg Hunt Eggstravaganza at South Park, organizers were happy about the clear weather.
"We lucked out. There was a possibility of rain or snow and colder weather. And it is none of those things right now," said John Olson, store manager at Hy-Vee, which was host to the event with the department.
Throughout the park, eggs were scattered. Children carrying Easter baskets gathered five different-colored eggs that they could then cash in for a bag of goodies.
Olson expected about 1,000 children at what he called a "casual" egg hunt, without the "ready, set, go" pressure.
The Easter Bunny, games and face painting were also part of the festivities.
Copyright 2018 The Lawrence Journal-World. All rights reserved. This material may not be published, broadcast, rewritten or redistributed. We strive to uphold our values for every story published.