Photo Gallery
Birds of Kansas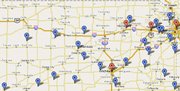 Good bird-watching locations in Kansas suggested by "The Guide to Kansas Birds and Birding Hot Spots" by Bob Gress and Pete Janzen, with background paraphrased from the book.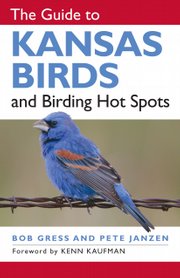 Pete Janzen is irritated that Kansans don't spend more time outdoors in their own state.
"It's just the whole interaction with nature thing, and society is really moving away from that," Janzen says. "People are worried about bugs and germs - the media makes you so nervous. People would rather stay home and play Nintendo or something."
Janzen, who lives in Wichita, is hoping a new book he co-wrote might help to inspire a few people to turn off the electronics and head outside.
The book is "The Guide to Kansas Birds and Birding Hot Spots," published by the University Press of Kansas, which has headquarters in Lawrence. Janzen wrote the book with photography by Bob Gress, another Wichitan who is director of the Great Plains Nature Center.
The guide, which took more than two years to put together, features photos and write-ups of nearly 300 avian species that can be found in Kansas. It also includes descriptions of more than 30 locations in the state that are good for bird watching.
It's meant to be an introduction to birding for Kansans.
"The niche is people who are interested in birds but aren't real familiar with them and are somewhat intimidated with the abundance of information thrown at them by a traditional field guide produced by a major national publisher," Janzen says. "A, we wanted it to be specific to Kansas, and B, we wanted it to be user-friendly."
Birder Bunny Watkins, who also is park manager at Perry Lake, says she thinks the guide has the potential to get a new group of people into bird-watching.
"I love it - I think it's great," she says. "It's nice because if you're a beginning birder, it has actual pictures. The more advanced guides have drawings."
Northeast strengths
Kansas, Watkins says, is prime birding territory. Around 470 species have been documented in the state, partly because of migration patterns.
"We're located along the central flyway, so we get some unique species," Watkins says.
In general, Janzen says, the eastern part of the state is good for watching a variety of birds that nest in woodlands and typically are found east of Kansas. Farther west in the state, there are more shorebirds.
But Janzen says short drives from Lawrence can put you in prime birding territory. Some examples:
¢ The Baker Wetlands, located south of 31st Street, has recorded 246 species of birds through the years. Those include a wide variety, from warblers to owls.
"That's one great place," Janzen says.
¢ Clinton Lake's causeway is a good spot for bald eagles and painted buntings, and Bloomington Beach offers shorebirds, gulls and terns.
¢ The Weston Bend Bottomlands at Fort Leavenworth offers the largest hardwood timber forest that remains along the Missouri River, where migratory warblers and other songbirds, among other species, can be found.
¢ Perry Lake offers good wetlands and other environments for a variety of birds.
Road trips
And for those wanting to hit the road, Janzen says there's one can't-miss spot in Kansas: the Quivira National Wildlife Refuge, located 30 miles west of Hutchinson in Stafford County.
The refuge is 21,000 acres that includes wetlands, sand prairie and wooded areas.
"It's known even nationally," Janzen says. "The king rail (a wading bird) is a good example. As a species, the population in the interior U.S. has completely collapsed over the last 100 years. The Quivira population has 50 breeding pairs. That makes it the most robust population of the species anywhere west of the Mississippi River."
Other good birding day trips include the Cheyenne Bottoms Wildlife Area, near Great Bend; Cimarron National Grassland, in the far southwest corner of the state; and the Red Hills west of Medicine Lodge.
Janzen says he's hoping fellow birders - and new birders - use avian species as an excuse to get out and see the state's geography. He mentions how infrequently he runs into other birders at the Quivira National Wildlife Refuge, even during prime birding seasons.
"I'd be delighted to see more than 10 cars on any given day," he says. "I'd spot you a hundred dollar bill I'd never see that in the next five years. But to me, it's the most beautiful, unique place around."
Copyright 2018 The Lawrence Journal-World. All rights reserved. This material may not be published, broadcast, rewritten or redistributed. We strive to uphold our values for every story published.