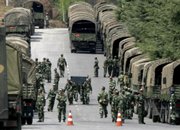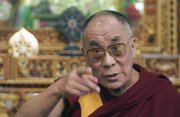 Zhongdian, China — China blanketed restive Tibetan areas Thursday with a huge buildup of troops, turning small towns across a wide swath of western China into armed encampments.
Beijing acknowledged that last week's anti-government protests had spread far beyond Tibet's borders and that police opened fire on protesters. It warned foreign tourists and journalists to stay away from a huge expanse of territory across four provinces.
In an overture of peace, the Dalai Lama offered to meet with Chinese President Hu Jintao and other leaders, reiterating that he was not asking for Tibetan independence.
China has repeatedly ignored calls for dialogue, accusing the exiled Tibetan leader and his supporters of organizing violence in hopes of sabotaging the upcoming Beijing Olympics and promoting Tibetan independence.
Hundreds of paramilitary troops aboard at least 80 trucks were seen traveling along the main road winding through the mountains into southeastern Tibet. Others set up camp and patrolled streets in riot gear, helmets and rifles in the town of Tiger Leaping Gorge, a tourist attraction in Yunnan province bordering Tibet.
Farther north, the largely Tibetan county of Zhongdian, renamed Shangri-la a decade ago, was swarmed by 400 armed police. Many carried rifles and what appeared to be tear gas launchers. Residents walked freely among the military, and there was no sign of a daytime curfew.
Sustained protest
The troop mobilization was helping authorities reassert control after the broadest, most sustained protests by Tibetans against Chinese rule in decades. Demonstrations had flared across Tibetan areas of Sichuan, Gansu and Qinghai provinces in support of protests that started in the Tibetan capital of Lhasa.
Led by Buddhist monks, protests had begun peacefully in Lhasa early last week but erupted into rioting on March 14, drawing a harsh response from Chinese authorities.
The crackdown drew worldwide attention to China's human rights record, threatening to overshadow Beijing's attempts to project an image of unity and prosperity in the lead-up to the Aug. 8-24 Olympics.
On Thursday, a group of 26 Nobel laureates said they "deplore and condemn the Chinese government's violent crackdown on Tibetan protesters," calling for Beijing to exercise restraint.
"We protest the unwarranted campaign waged by the Chinese government against our fellow Nobel Laureate, his holiness the Dalai Lama," the group said in a statement released by the Elie Wiesel Foundation.
Tibetan exile groups have said 80 people were killed in the protest and its aftermath, while Beijing maintains that 16 died and more than 300 were injured.
Dalai Lama's offer
Speaking from the seat of his government-in-exile in Dharmsala, India, the Dalai Lama offered to meet with Hu and other Chinese leaders.
"The whole world knows the Dalai Lama is not seeking independence, one hundred times, thousand times I have repeated this. It is my mantra - we are not seeking independence," the 72-year-old Dalai Lama told reporters.
"The Tibet problem must be solved between Tibetan people and Chinese people."
China says the riots and protests were organized from abroad by the Dalai Lama and his supporters.
Reinforcing that claim, state broadcaster China Central Television aired a 15-minute program Thursday night, showing how Tibetan rioters rampaged through Lhasa last week but none of the ensuing police crackdown.
Copyright 2018 The Associated Press. All rights reserved. This material may not be published, broadcast, rewritten or redistributed. We strive to uphold our values for every story published.