Photo Gallery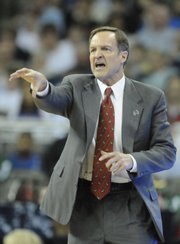 UNLV vs. Kent St.
Omaha, Neb. — Kansas University's basketball players filed out of the Qwest Center at halftime of Nevada-Las Vegas' 71-58 victory over Kent State on Thursday.
They had seen enough. Everyone had.
It was obvious just 20 minutes into the game that the Runnin' Rebels were ready for a second-round NCAA Tournament showdown with Kansas. Eighth-seeded UNLV (27-7) led, 31-10, at the break and looked super against No. 9 Kent State.
Sensational. Superior. Suffocating. Pick your adjective.
"That's a great start," UNLV's Curtis Terry said, "to the tournament."
And if it's any indication, it could mean that the Jayhawks (32-3) will get their first true test Saturday, when the teams meet approximately 5:50 p.m.
Defensively, UNLV did plenty in making Kent State match the lowest first-half point total in the NCAA Tournament's modern era.
The Golden Eagles (28-7) shot 21 percent from the field in the first half and committed 17 turnovers. They scored 48 points after the break, but still were never in the game.
"There was no possible way," Kent State's Haminn Quaintance said, "that we could've played worse."
UNLV took advantage and was able to thanks to some talented players that Kansas fans will need to learn about quickly:
¢ Wink Adams, an all-conference guard who's averaging 16.6 points per game. Adams is a Keith Langford-type slasher who scored 17 points against Kent State.
¢ Terry, a former walk-on who's the half-brother of NBA standout Jason Terry. Curtis had just six points Thursday but had scored 20 or more in three of his previous four games.
¢ Joe Darger, a 6-foot-7 forward, hit four three-pointers and led the Rebels with 18 points Thursday. He was in such a groove that he flung up a strongly guarded three in the second half and watched as it banked in.
When you're hot, you're hot.
Of course, singling out those three will mean that Rene Rougeau or Corey Bailey might step up next. Much like Kansas, there isn't an obvious go-to guy for UNLV.
"That's the great thing about this team," Darger said. "Every night, someone different is showing up."
The Rebels' potential downfall is height, or lack of it. Darger likely will guard one of KU's big men. UNLV's tallest player is 6-8 Matt Shaw, meaning all of KU's post players will have a size advantage Saturday.
It's a broken record to the Rebels, who won plenty of games as the smaller squad this season.
"I've been playing against bigger guys all year. It's not anything new to me," Darger said. "You've got to get out there and try to fight harder and get great starting position and compete and do my part in keeping the big guys off the boards."
Several of the UNLV players know plenty about Kansas, with Rougeau claiming "they're on TV every other day."
That will cut down on the surprises the Runnin' Rebels will face on Saturday at the Qwest Center.
The question is, will it matter against such a strong KU team?
"They are a real good team," Rougeau said. "We know we're definitely going to have to come with it."
Copyright 2018 The Lawrence Journal-World. All rights reserved. This material may not be published, broadcast, rewritten or redistributed. We strive to uphold our values for every story published.