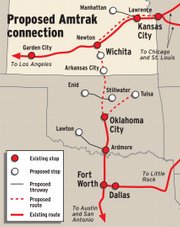 Topeka — Passengers could board a train in Lawrence and go to Fort Worth under a proposal that officials said Thursday will be studied.
The $150,000 to $200,000 study will be done by Amtrak and funded by the Kansas Department of Transportation.
The study will see whether a state-sponsored connection is feasible between Amtrak's Southwest Chief, which stops daily in Lawrence and Topeka and provides rail service between Chicago and Los Angeles, and the Heartland Flyer, which runs daily between Fort Worth and Oklahoma City.
The study will include a connection between the Southwest Chief and an extended Heartland Flyer at Newton; a further extension of the Heartland Flyer to Kansas City; or some other new service.
"State-supported routes are the fastest-growing part of our business," said Amtrak President and Chief Executive Officer Alex Kummant. The Heartland Flyer is supported by the Oklahoma and Texas state transportation departments.
KDOT Secretary Deb Miller said it makes sense to study the possible connections.
"Linking the Southwest Chief route to the Heartland Flyer route at Newton and Kansas City seems to be a logical connection within Amtrak's national system and is worthy of further study and analysis," Miller said.
She said the study will examine cost, schedule, and the likelihood of travel delays because of freight traffic on the lines.
The study is expected to start this summer and be completed in 2009, officials said.
Several Kansas cities, including Lawrence, have expressed support for expanded passenger rail service.
An organization of Kansas and Oklahoma officials, called the Northern Flyer Alliance, has formed to lobby Amtrak for increased passenger service. In February, the Lawrence City Commission approved a resolution supporting the service extension.
A route between Oklahoma City and Newton would likely include Wichita, which has not had Amtrak service since 1979. And Emporia has not had Amtrak service since 1997, when that stop of the Southwest Chief was discontinued.
Amtrak's Kummant said studies done elsewhere in the Midwest have led to increased state rail programs.
Copyright 2018 The Lawrence Journal-World. All rights reserved. This material may not be published, broadcast, rewritten or redistributed. We strive to uphold our values for every story published.