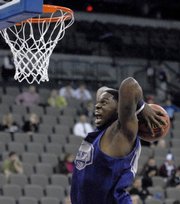 Omaha, Neb. — USC coach Tim Floyd was talking about his freshman superstar O.J. Mayo, and the words he used just as easily could have been applied to Kansas State's Michael Beasley, the best player in the nation.
"You watch his demeanor," Floyd said of Mayo. "It's the best demeanor you're going to see on the floor in the NCAA Tournament. Facial expressions never change."
Beasley, whose Wildcats meet the Trojans today for a 6:10 p.m. tipoff, brings the same sort of level-headed play to the game.
And then there is Bill Walker, Kansas State's mercurial second-year freshman. His moods swing, and so does his production. Walker followed a 31-point performance at Baylor with a one-point game at home against Texas.
Maybe living his basketball life in the shadows of the two players around whom the hype of the most compelling first-round game in the tournament creates what appears at times to be an on-court mood disorder for Walker, a friendly, talkative sort off the court.
Walker might go down in history as the best basketball player not to be the star of either his high school or college basketball team.
Mayo and Walker met at the age of 4 in preschool.
"He was one of the taller guys in the class, along with me," Mayo said.
Walker remembered: "We got in trouble for sneaking up under our cots at nap time. We got in trouble together. After that, we just bonded, became friends."
A 6-foot-6 forward who has endured two major knee operations, Walker played second fiddle to Mayo as early as youth basketball and has played in Beasley's massive shadow all season. Walker had a chance to make K-State a year ago, but blew out his knee after six games.
"Yeah, he's had his bad luck," a smiling Mayo said of Walker always getting squeezed off of the marquee. "I don't think Bill got enough credit for what he did when we were playing with each other. And then he went to Kansas State and Beasley is a great player. And at the same time, without Bill, I don't think Beasley would be in the talk for national player of the year.
"I think they take a load off of each other."
USC coach Tim Floyd doesn't overlook Walker or the Wildcats.
"I'm still trying to figure out how they got an 11 seed finishing third in a league as strong as the Big 12," Floyd said. "I view this as a team that you would play in the Sweet 16 because of their talent. I don't know that anybody in the first round has a greater challenge than Davon Jefferson and Taj Gibson have with the tandem of Walker and Beasley."
The magnitude of the tourney first hit Beasley and Walker, they said, when they received a police escort.
"I've never been escorted before," Beasley said. "It was like six cops out there just stopping cars. We were running red lights and everything."
The tournament isn't so big though that K-State can't win it all, Beasley said.
"I wouldn't say a win or two (would make the season a success)," Beasley said. "I would say six. Why settle for one or two wins? I got my eyes set on the big prize. I want to go all the way. I want to play until April the 7th."
Copyright 2018 The Lawrence Journal-World. All rights reserved. This material may not be published, broadcast, rewritten or redistributed. We strive to uphold our values for every story published.