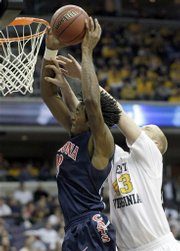 It was as if there was a basket hooked up to the garage, and West Virginia's players were taking aim from behind the family car.
The Mountaineers used a dazzling display of long-range shooting to beat Arizona 75-65 Thursday night, making the Wildcats' 24th consecutive trip to the NCAA tournament another one-and-done performance.
Alex Ruoff scored 21 points, Da'Sean Butler had 19, and West Virginia went 11-for-19 from 3-point range to set up a matchup against Duke in the second round of the West Regional.
"Those are easy shots to make," Mountaineers coach Bob Huggins said. "When you grow up in your driveway, that's kind of what you do. You shoot step-in shots. Al made some step-in shots and kind of got on a roll."
West Virginia (25-10) took the lead for good on a 3-pointer by Ruoff with 17:43 left, and another jumper by Ruoff from beyond the arc made it 48-39. After Arizona closed to 60-59, two 3-pointers by Darris Nichols and another by Ruoff sealed the victory.
"Toward the end, it was heartbreaking," Arizona forward Chase Budinger said. "They came up big with huge shots down the stretch with the shot clock winding down. Their guys just stepped up and knocked them down."
Led by Ruoff (5-for-7) and Nichols (4-for-7), the Mountaineers tied a season high for 3-pointers in a game.
"It was one of those nights when you thought it was going off and then you made it," Nichols said. "I remember shooting one shot, I thought it was off, it looked like an air ball, it still went in."
And thus, seventh-seeded West Virginia is still in the tournament and the Wildcats are not.
Arizona's run of 24 straight appearances in the NCAA tournament is the longest current run in the nation, but this was the 10th time during the streak that the Wildcats exited in the opening round.
"Defensively, we weren't doing our job," Arizona forward Jordan Hill said. "That's why they were getting the open looks and the open 3s and were just hitting them. They were knocking them down, doing what they were supposed to do."
The defeat also ended Arizona's run of 20 consecutive 20-win seasons, the longest streak of its kind in the nation. The Wildcats entered with 14 losses, equaling the most for an at-large team since 1985.
Budinger led Arizona (19-15) with 23 points, and Jordan Hill had 16 points and 12 rebounds. The Wildcats are 0-3 all time as a No. 10 seed.
"Every team that shot the 3-ball against us beat us and that's what happened tonight," Budinger said. "All of the big shots down the stretch, every one of those were daggers. It just really killed us."
The Mountaineers took a 31-30 halftime lead despite a late run by Budinger, who scored nine of Arizona's final 10 points before the break.
It was 13-all before West Virginia's Joe Mazzulla drilled a 3-pointer and Butler made two straight jumpers for a seven-point cushion. But the Mountaineers made only one basket over the next three minutes, and Huggins angrily addressed his players during a timeout with West Virginia up 22-17.
Minutes later, Arizona point guard Nic Wise ended up on the floor and got up gingerly, gripping his knee.
"That's how we do it in the Big East!" yelled one unsympathetic Mountaineers fan.
Wise soon returned, showing no sign of injury.
In the end, though, all the Wildcats were left hurting. Blame it on Ruoff.
"He's a good shooter," Hill conceded. "He came in here raining 3s."
Copyright 2018 The Lawrence Journal-World. All rights reserved. This material may not be published, broadcast, rewritten or redistributed. We strive to uphold our values for every story published.