Photo Gallery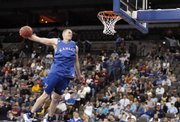 KU prepares for Portland State
Local ties
Portland State has two players from Wichita, senior guards Dupree Lucas and Brian Curtis. Neither grew up a Kansas University basketball fan, though both are excited to be playing the Jayhawks at 11:25 a.m. today in the first round of the NCAA Tournament.
"I wasn't too fond of them," Lucas said. "I jumped out of my seat when I saw we were playing KU, because I always wanted to play KU."
Curtis, a walk-on who played junior-college hoops at Allen County Community College, used to drive to Lawrence occasionally to play. He participated in pick-up games with Brandon Rush and Mario Chalmers several years ago.
Lucas still has family in Wichita. He was asked what his friends back home told him once the brackets were announced.
"'Beat the Jayhawks,'" Lucas said. "'Show the world how Wichita gets down.'"
Still well known
A couple of Portland State players know former Jayhawks Aaron Miles and Michael Lee from when they all grew up in Oregon.
PSU fifth-year senior J.R. Moore played AAU hoops with Miles and played against Miles and Lee in high school.
"Aaron Miles cut the defenses apart so bad," Moore said. "Mike Lee? I knew he was going to shoot."
Vikings point guard Jeremiah Dominguez, the Big Sky Conference player of the year, worked out with Miles while in high school.
"He helped me realize I could play against a high-caliber player like him," said Dominguez, who is averaging a team-high 14.3 points per game for PSU. "So you could say he helped me.
"Everyone knows Aaron," he added. "He's a big star in Portland."
Surprise encounter
Portland State coach Ken Bone was talking with his wife, Connie, before Selection Sunday about possible first-round opponents for the Vikings.
PSU expected to be a 14 or 15 seed, so Bone mentioned the possibility of Kansas as a 2 or 3 seed matching up with the Vikings.
"When (KU) popped up during Selection Sunday and they were a 1, I turned to her and said, 'Well, looks like we aren't playing Kansas,'" Bone said. "Five seconds later, I said, 'Oh boy. Looks like we are.'"
Bone admits that it will probably take a great effort by his team and a poor effort by Kansas to get to the second round. But he said the experience will be worth it in the end.
"I hope they enjoy it," Bone said, "because (this) morning might not be quite as fun."
Giant motivation
Curtis said the Vikings are motivated by the NFL's New England Patriots, who went 16-0 in the regular season but lost in the Super Bowl to the New York Giants.
"They're probably the most dominant team in sports history," Curtis said. "If they lose, why can't the Jayhawks be beaten?"
Copyright 2018 The Lawrence Journal-World. All rights reserved. This material may not be published, broadcast, rewritten or redistributed. We strive to uphold our values for every story published.