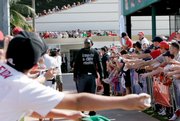 Fort Myers, Fla. — The Boston Red Sox ended a threatened boycott Wednesday of their final spring training game in Florida, resolving a dispute over paying coaches for the season-opening trip to Japan.
The televised game against Toronto started an hour late when players voted unanimously not to play the exhibition or to board Wednesday's scheduled flight to Tokyo for the two-game series against Oakland on March 25 and 26.
Boston players insisted their coaches receive $40,000 appearances fees for the Japan trip, matching the deal negotiated for players by their union. After a few hours of talks among players from the Red Sox and Athletics, Major League Baseball, the clubs and the players' association, the sides said the dispute had been resolved.
"We felt we had to make a stand, and being on ESPN didn't hurt," Red Sox third baseman Mike Lowell said.
The Red Sox took the field 64 minutes late for a 4-3 loss to Toronto before a crowd of 7,868. An Oakland split squad lost, 6-1, to the Los Angeles Angels in front of 7,940 fans before leaving for Tokyo.
Major League Baseball agreed to pay the managers, coaches and trainers on the trip $20,000 each from management's proceeds, a person familiar with the agreement said, speaking on condition of anonymity because details weren't announced. The Red Sox agreed to make up the difference to make the amount equal, and to pay some of the other team personnel making the trip, the person said.
"The players just stepped up and they did what I think was right," Boston bench coach Brad Mills said.
It had not yet between determined whether Oakland would make additional payments to its staff.
"Everyone connected with the trip will be fairly compensated," baseball spokesman Rich Levin said.
Managers and coaches were included in the players' pool payments for baseball's two previous opening trips to Japan - the New York Mets played the Chicago Cubs in 2000 and the Yankees played Tampa Bay in 2004. But there was no such provision this time in the agreement between MLB and the players' association.
In Phoenix, A's players watched coverage of Boston's dispute on television, called a team meeting and didn't take batting practice before their game against a Los Angeles Angels' split squad.
Copyright 2018 The Lawrence Journal-World. All rights reserved. This material may not be published, broadcast, rewritten or redistributed. We strive to uphold our values for every story published.