Photo Gallery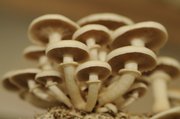 Morel of the story
As Bob Bruce says: "You are either a fungophile or you are not."
Bruce would know. He has been cultivating mushrooms at Wakarusa Valley Farm for the past three years.
Growing mushrooms is not an easy task. The average gardener cannot simply buy a packet of seeds or a spore-infested "pot" of mushrooms, dig a hole in the ground and reap the rewards of its bounty. No, mushrooms are a complicated, intricate, study in science more than they are simple gardening.
In fact, it might be more useful to have a biology degree than a green thumb.
You need a sterile environment, which is why many mushroom lives begin in a laboratory. The spores (or natural seeds) of the mushroom are so minuscule that growers cannot physically handle them, which is why the spores are inoculated on cereal grains or another substance that can be handled.
Bruce explains the process.
"Mushrooms arise from, and are made of mycelium, a complex network of cells known as hyphae," he says. "Therefore, hyphae are the basic structural units of a mushroom. Growing mushrooms requires the expansion of the mycelial mass, first from cultured agar (via spores or tissue) then to grain. Colonized grain is known as 'spawn' and is the vector for inoculating various substrates including hardwoods and straw. Growth parameters for each is unique, but in general mushrooms fruit when they 'run out of food,' followed by an increase in moisture, and an increase in oxygen. The cycle ends/continues when mushrooms form and spores are forcibly propelled from the gills."
Alrighty then. Got it?
Mushrooms need a sterile environment, grains to be inoculated onto, clean substrates like wood chips or straw, ventilation, healthy stock cultures, and a doctorate in fungal matter. Just kidding on that last one - but it certainly wouldn't hurt.
Bruce shares the most taxing part of growing mushrooms (as if the entire process is not demanding enough): "The most challenging part of growing mushrooms is knowing when and why they fruit. We've experimented with literally hundreds of 'recipes,' oftentimes without knowing what causes failure. Moisture content, wood type, particle size, supplements, containers and intensity and duration of light are just a few factors to consider. Not to mention you're working with microorganisms whose biological competitors (contaminants) are impossible to see until it is too late and the bacteria have outsourced the fungi to the available food.
"I suppose the most difficult part is trying to understand something you cannot see."
Wakarusa Valley Farm, which is 7 miles southwest of Lawrence, looks like a run-of-the-mill grower's paradise - lots of greenhouses, plenty of land, a few dogs and cats to greet visitors.
But when you take a closer inspection or go on a tour, this is quite different and unique from other growing environments. First of all, we take off our street shoes and replace them with rubber shoes in many of the converted greenhouses for cleanliness purposes. Instead of rows of plants there are alien-like growth forms poking out of bags stuffed with straw and hanging from the ceiling or otherworldly creatures protruding from brick-like blocks of wood chips stacked on shelves.
The atmosphere is damp and stinky and a little dark. The growing mushrooms vary from brown, tan, multi-colored to albino white and pink. They are universally soft to the touch, but their shapes and contorted growth patterns are all unique to each variety. Wakarusa Valley Farm cultivates morels, lion's mane, lobster, king oyster, wine cap, chanterelle, hedgehog, pom pom blanc, maitake and shiitake mushrooms, to name a few. A handful of local restaurants and the Rolling Prairie Alliance all are clamoring for these beautiful, odd, tasty, home-grown morsels.
I agree with Bruce - people either tend to really adore mushrooms, the "fungophiles," or they could really care less. If you happen to be a fungophile, the farm is offering a subscription service to extend the best selection of local and wild edible mushrooms.
A subscription runs $18 every other week and garners participants the freshest seasonal mushrooms on a bi-weekly basis to be collected at the new Casbah Market downtown. A subscription also comes with literature on the health benefits of mushrooms and recipes for the various types.
Also for fungophiles out there, the Kaw Valley Mycological Society meets for forays on the second Saturday of each month at predetermined locations both locally and regionally, often to go on nature hikes in search of those wild, elusive mushrooms. The carpools leave from 601 Mississippi at 9 a.m. and members suggest that you bring a sack lunch.
The group also meets the following Wednesdays at Free State Brewing Co. for dinner, no doubt on the menu are mushrooms. Later they meander to the Lawrence Public Library for a program; also no doubt the topics tend to lean towards the fungi family.
So if you are feeling your life is lacking some spores, check out what Wakarusa Valley Farm is up to, subscribe to the mushroom food pantry and for goodness sakes, take a sunny Saturday to plod about the outskirts of Lawrence in a deep, dark deciduous forest and discover the wonderful world of mushrooms!
Copyright 2018 The Lawrence Journal-World. All rights reserved. This material may not be published, broadcast, rewritten or redistributed. We strive to uphold our values for every story published.