Photo Gallery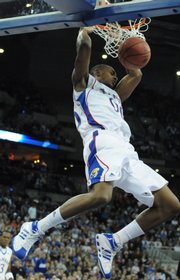 KU vs. Portland St.
Final, KU wins 85-61
Paced by Mario Chalmers and Brandon Rush - who brought their offense from the tail end of last weekend's Big 12 Tournament to Omaha with them - KU crushed Portland State 85-61 Thursday morning, advancing to Saturday's second round of the NCAA Tournament.
The Jayhawks will get the winner of the Kent State-UNLV contest, set to take place right after this morning's game, in the Qwest Center Saturday evening at around 6:00 p.m. Brandon Rush led KU with 18 points, scoring 15 of those in the first half on 3-of-6 three-point shooting. Darrell Arthur was consistent on the offensive end from start to finish, scoring 17, while Mario Chalmers added 16.
KU was 12-of-26 from three-point range, while holding Portland State's leading scorer, Jeremiah Dominguez, to 13 points on a frustrating morning.
For more on this story, including full postgame coverage and previews of Saturday's second round contest, log back onto KUSports.com and read Friday's Journal-World.
2:42, second half, KU leads 80-56
Mario Chalmers clawed for a huge one-handed defensive rebound out of the timeout, then nailed a three on the other end, giving him 16 points on the afternoon. Russell Robinson then dropped in two in transition off a Cole Aldrich outlet pass. Rodrick Stewart then cashed a two-point look from the right wing to make it 73-44, as the reserves began to come in, with Jeremy Case checking in next.
Alex Tiefenthaler then dropped in four straight free throws for the Vikings, and Andre Murray put away two more as Portland State got hitself into the bonus. Cole Aldrich then slipped in two off the glass just before the game's final TV timeout. Darrell Arthur did the same, too, right after a Tiefenthaler three.
Dupree Lucas, one of two Wichita natives on the PSU roster, hit a three right after Arthur's bucket, but Brandon Rush then hit one to put KU back up by 24 at 80-56.
7:39, second half, KU leads 66-42
Darnell Jackson slammed down a follow-up dunk off a Brandon Rush miss out of the timeout, but Jeremiah Dominguez came back to cash a three from the left wing, giving him six points on the afternoon. Darrell Arthur then swished a mid-range jumper, keeping KU ahead by 24.
Mario Chalmers then dropped in his 12th and 13th points of the game on a swooping layup following a few empty possessions, including a Brandon Rush dunk on a lob rimming out.
Alex Tiefenthaler cashed a three then for PSU, as the Vikings continued to go hard on the boards, KU tried to answer with a three of its own, but Russell Robinson and Brandon Rush both missed looks. Despite the sloppy offensive stretch, KU held on to a 66-42 lead late in the game.
11:56, second half, KU leads 59-36
Sasha Kaun made one of two free throws out of the timeout, keeping KU ahead by 24. He then snatched a defensive board off a Kyle Coston three miss, but KU turned it over on an entry pass. Coston scored two in transition off the glass.
Bill Self called a timeout after the score, and out of the quick break, Sasha Kaun threw home two underneath while drawing a foul. His free throw missed.
Darrell Arthur put himself in double digits with a follow off the glass coming after a Mario Chlmers three miss, putting Kansas ahead 59-36.
15:22, second half, KU leads 54-21
Andre Murray cashed a three for PSU, but KU re-established its presence right after, with Darnell Jackson taking an interior feed up for a two-handed slam. Jackson then stole an interior pass from Tyrell Mara, but the Jayhawks turned it right back over, continuing a somewhat-sloppy start to the second half.
Mario Chalmers then recorded his third steal of the game and fed Russell Robinson in transition. Robinson nailed a three for his first points of the night.
A PSU foul against Sasha Kaun as he was going up for two brought the game to a halt at the TV timeout with KU up 54-31.
Halftime, KU leads 49-26
Darnell Jackson hit two free throws out of the timeout. Sherron Collins and Brandon Rush then nailed three-pointers to push KU ahead 44-24 just before the half.
Jackson then hit two more free throws for KU, and a Sherron Collins three-pointer put KU ahead 49-26 with Portland State holding for the last possession.
The offensive wealth was spread pretty evenly for KU before halftime. Brandon Rush led all scorers with 15 points, while Mario Chalmers added 10. Darrell Arthur and Sherron Collins each addeed nine points for the Jayhawks, who were 18-of-28 from the floor and 8-of-13 from three-point range.
3:39, first half, KU leads 36-24
Brandon Rush spotted up for a three on the left wing out of the timeout, but then hustled to grab his own offensive board off the miss and slipped it in for two. he then skied for a defensive board on the other end.
Rush then put himself into double figures thanks to a cross-court missile from Sherron Collins, spotting the junior open in the corner for three. It put KU up 36-18 and gave Rush 12 points.
Julius Thomas laid in a pair for PSU after that, and Deonte Huff was then fouled in transition off a Darrell Arthur miss. Huff made one of two, but KU still grasped a 36-21 edge.
Rush had a three rim out on the other end, and Mickey Polis answered with a three for PSU.
7:37, first half, KU leads 31-18
Mario Chalmers hit a long two out of the TV timeout, but Deonte Huff was able to drop in an and-one bucket for the Vikings on the other end. Sherron Collins cancelled out those three points with a trifecta from the left wing. Cole Aldrich then blocked a shot inside and it turned into a Brandon Rush floater on the offensive end, giving him seven points and putting KU up by 11. That lead ballooned to 31-18 with a Chalmrers swipe-and-dunk, throwing one down one-handed in the open floor.
9:50, first half, KU leads 22-15
Darrell Arthur hit a turnaround jumper inside out of the timeout, giving KU six assists on six field goals in building a 13-3 lead.
Sasha Kaun then snatched a rebound away from Scott Morrison off a Kyle Coston three miss, and then wound up on the free throw line at the other end off a feed from Arthur. Kaun missed both charity tries, but Darrell Arthur collected the board and got to the line soon thereafter. Arthur hit the second of two, making it 14-3 and giving himself seven points so far.
Morrison scored PSU's second bucket of the game on an inside dish from Jeremiah Dominguez, but Darrell Arthur came back to hit another spinning jumper off the block. Tyrell Mara then laid one in for the Vikings, making it 16-7.
Brandon Rush continued KU's offensive surge, cashing a three from striaght on for his second bucket of the game, but Dominguez answered with his first points of the game on a three of his own.
Dominguez then collected a defensive board and fed Scott Morrison underneath for another two points, pulling the Vikings to within seven points. Mario Chalmers came back quickly, nailing his second three of the game from the right wing.
Dominguez tried another three, but fell a bit short, giving Brandon Rush another defensive board. Rush then missed high on an attempted bank shot, and Tyrell Mara dropped in three from straight on.
PSU's Andre Murray was called for a travel heading into the game's second full break.
15:42, first half, KU leads 11-3
Russell Robinson controlled the game's opening tip, with Brandon Rush ending up with an open three look from atop the key to start things off. He missed, and the rebound was grabbed by Scott Morrison. Deonte Huff turned it over on the other end, though, and in transition, Rush slipped one in off the glass over Kyle Coston, drawing a foul in the process. He missed the free throw, but collected the offensvie board, and Darrell Arthur then threw down a two-handed slam to put KU up 4-0.
Jeremiah Dominguez missed a two on the other end, but Coston grabbed the offensive board and then drilled a three from the right wing, making it 4-3 with KU ahead by one. Darnell Jackson was then called for an over the back foul trying to follow up a KU miss.
Mario Chalmers then hit his first three of the game after a Morrison inside miss for PSU. Darnell Jackson extended it to a 9-3 lead off a Brandon Rush lob feed following another Vikings miss.
Chalmers then swatted Coston from behind off a loose ball scramble on a pull-up jumper, and it resulted in an open floor, two-handed throwdown for Darrell Arthur. That pushed PSU into a timeout, down 11-3.
Deonte Huff was called for a walk out of the timeout, leading to the game's first full break.
Pregame
The Kansas University men's basketball players have now heard enough of the history - a 16-seed has never downed a one-seed in the first round of the NCAA Tournament. Today, KU gets its chance to uphold that statistic, opening the Big Dance against Big Sky champion Portland State.
The Jayhawks (31-3 overall, 13-3 Big 12) enter the tournament as a one-seed for the second straight year, last season thumping Niagara in the tournament opener in Chicago. Portland State's run to March has been impressive, no doubt, but on paper doesn't appear to stack up too well against the Big 12 champs.
The Vikings (23-9) are led by 5-foot-6 junior guard Jeremiah Dominguez, who despite his small stature can fill up a stat sheet. He averaged a team-high 14.3 points and 4.1 assists this season. PSU has decent size outside of Dominguez, though. Senior guard Deonte Huff, the Big Sky Tournament MVP, averages 13.9 points per game, while the paint is anchored by senior center Scott Morrison, who averages 10.6 points and 5.9 boards. He led the conference this season with 52 blocked shots.
Tip-off is slated for 11:25 a.m., with the game airing on CBS (Sunflower channels 5, 13)
Copyright 2018 The Lawrence Journal-World. All rights reserved. This material may not be published, broadcast, rewritten or redistributed. We strive to uphold our values for every story published.