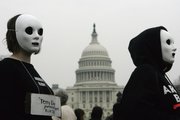 U.S. Deaths
As of Wednesday, at least 3,992 members of the U.S. military have died since the beginning of the Iraq war in March 2003, according to an Associated Press count.
Washington — While anti-war demonstrators marked the fifth anniversary of the U.S.-led invasion of Iraq with protests and vigils, President Bush said Wednesday that recent military gains have "opened the door to a major strategic victory in the broader war on terror" - if America has the patience and the resolve to see it through.
Speaking at the Pentagon to an audience of military brass and diplomats, Bush reported that attacks on Americans, sectarian killings and civilian deaths were all down as a result of the troop surge that he ordered last year. But he warned that there is "still hard work to be done."
"The gains we have made are fragile and reversible," Bush said. "The challenge in the period ahead is to consolidate the gains we have made and seal the extremists' defeat."
In Washington and cities across the country, meanwhile, demonstrators protested a conflict that has cost the lives of nearly 4,000 U.S. troops and at least tens of thousands of Iraqi civilians. Two-thirds of Americans now say the war was not worth fighting; more than half say it is no longer winnable. A majority wants to begin bringing troops home.
"What's victory?" Tracy Miller asked Wednesday outside the White House. The Towson woman said she had come to Washington in tribute to her son, Nicholas Ziolkowski, a Marine sniper who was killed in Fallujah in 2004.
"Enough people have died already," Miller said. "It was a mistake to go in in the first place."
Elsewhere in the nation, protesters acted out a Baghdad street scene in upstate New York, banged drums in San Francisco, and set up a 2-mile display of about 4,000 T-shirts in Cincinnati, meant to symbolize the members of the U.S. military killed in Iraq.
Dozens of people were arrested, most of them at demonstrations in San Francisco, Washington and Syracuse, N.Y.
Laurie Wolberton of Louisville, Ky., whose son just finished an Army tour of duty in Iraq, said she fears the worsening U.S. economy has caused Americans to forget about the war.
"We're not paying attention anymore," she said. "My son has buried his friends. He's given eulogies, he's had to go through things no one should have to go through, and over here they've forgotten. They just go shopping instead."
Bush has vetoed legislation by the Democratic Congress to wind down the war. In his address Wednesday, he alluded to rotations this summer that will reduce the American presence from about 158,000 troops to 140,000. But he said any further drawdown would depend on conditions on the ground and the recommendations of commanders - "and they must not further jeopardize the hard-fought gains our troops and civilians have made over the past year."
Gen. David Petraeus and U.S. Ambassador Ryan Crocker are due to testify before Congress next month on troop levels.
Commanders anticipate a pause of four to six weeks after the last of the surge brigades leave Iraq in July before deciding on further action.
Candidate stances
On the campaign trail Wednesday, Sen. Barack Obama said the war had stretched the military while emboldening America's enemies in Iran, North Korea and al-Qaida. As president, the Democratic contender said, he would end it.
"The central front in the war against terror is not Iraq, and it never was," Obama told voters in Fayetteville, N.C. "We need to start fighting the battles that need to be won against al-Qaida in Afghanistan and Pakistan."
Sen. Hillary Rodham Clinton, Obama's rival for the Democratic nomination, told a Michigan audience that "the soldiers from across this great state need a commander-in-chief who will end the war in Iraq and bring them home."
But Sen. John McCain, the presumptive Republican nominee, said "dramatic and undeniable" security gains in Iraq have put America and its allies "on the precipice of winning a major victory against radical Islamic extremism."
"Americans should be proud that once we implemented the surge and new counterinsurgency strategy, a dire situation has been dramatically improved," McCain said in a statement. "And, Americans know that the consequences of failure would leave our nation less secure for generations to come."
Costly conflict
Bush, who is trying to boost support for a war that will continue beyond his presidency, allowed that the conflict had been "longer and harder and more costly than we anticipated." The United States has spent some $500 billion on the war so far.
Nobel Prize-winning economist Joseph Stiglitz and Harvard public finance expert Linda Bilmes recently estimated the eventual cost to the U.S. economy at $3 trillion.
Bush acknowledged "an understandable debate" over "whether the war was worth fighting, whether the fight is worth winning and whether we can win it."
"The answers are clear to me," he said. "Removing Saddam Hussein from power was the right decision."
Copyright 2018 The Lawrence Journal-World. All rights reserved. This material may not be published, broadcast, rewritten or redistributed. We strive to uphold our values for every story published.