On the street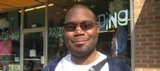 I think this is a trick. It's the lull before the storm. The cold is going to come back when I least expect it.
Lawrence residents have caught a bad case of spring fever - even Tom Orzulak, the city's street division manager, who claims winter is his favorite season.
As a child, he thought his kind of work would be fun.
"Most of the time it is, but you can only stand so much fun, evidently," he said, laughing. "I can't tell you how many hours I've worked this winter."
That's because 23.8 inches of snow have fallen in Lawrence since December - seven inches more than the yearly average.
"This year has definitely been the worst winter that we've had," said John Morris, golf course superintendent at Eagle Bend, who typically golfs two to three times a week but has only played nine holes twice this winter.
"All of the guys that I have talked to or anybody that I have had a conversation with all winter, it has been the same thing: 'It's freezing, we hate it and we wish it was spring,'" Morris said.
Today, spring is officially here, and the forecast calls for a high of 69 degrees and sunny skies - perfect weather to hit golf balls, embark on spring cleaning or clean up your garden.
Jennifer Smith, horticulture agent with the Douglas County Extension Office, said the wet winter was beneficial for plants and trees.
"I think it's really going to give the plants a head start, and I think we should expect some good spring blooms and growth this year," she said.
While residents may be eager to plant flowers and tomatoes, she urges them to be patient and wait until the first of May, especially because it takes soil temperatures a while to catch up with air temperatures. The final spring freeze for this area generally falls between April 9 and April 16.
Bill Gargan, a meteorologist with the National Weather Service in Topeka, said forecasts are calling for a warm, wet spring. This weekend's forecast calls for a slight chance of snow Saturday night.
If that snow misses Lawrence, likely few people would be disappointed.
"I've had my fill until next November," Orzulak said.
Winter by the numbers
- 9 - It was the coldest temperature this winter and it occurred on Jan. 19 when the high was 13 degrees.20 - How many inches of snow Lawrence received between Dec. 22 and March 20.2 - Number of days that Lawrence School District students stayed home because of inclement weather.7 - Number of inches in precipitation that Lawrence received this winter. The average is 4.5 inches.10,500 - Number of hours city crews worked to remove snow since Nov. 24, the date the first snow fell.8,600 - Tons of sand and salt treatment used during the 17 snow events this winter.590,000 - Amount of dollars the City of Lawrence spent this winter on snow removal. The cost includes labor, material and equipment use.
Copyright 2017 The Lawrence Journal-World. All rights reserved. This material may not be published, broadcast, rewritten or redistributed. We strive to uphold our values for every story published.