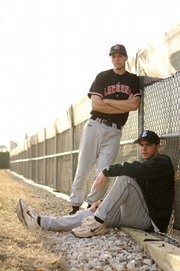 Lawrence High baseball coach Brad Stoll spent the first three weeks of practices preaching about the value of carrying the Lions' postseason momentum into spring 2008.
No, he wasn't talking about last year's state baseball semifinal appearance - the Lions' first state berth since 2002 and first under Stoll. Instead, he took a page from : LHS basketball?
"We've been talking about trying to ride the success and the hot run of the basketball team, since we have three basketball guys," Stoll said. "Trying to take that energy and that feeling of success and running with it. We know that all three of them are winners and that all three can rise to the occasion. That's great for a coach."
Stoll was referencing the Lawrence boys basketball team's turnaround from mediocre to a state championship runner-up this season. And three players - Dorian Green, Preston Scheibler and Lance Kilburn - all are expected to contribute on the diamond this year.
Coincidentally, it was last year's baseball team that put together the first of the Lions' Cinderella runs to state, winning three playoff games before falling to Blue Valley West in the state semis.
Five underclassmen were on the field that day for the Lions, and Stoll said that playoff experience would be invaluable heading into this season. Of Stoll's 19 varsity players, 15 are upperclassmen.
Back this year is junior Clint Pinnick, who will compete for a spot at third base. Aaron Rea likely will be at shortstop, Devin Forio could see time at second base and Chase Muder should be the team's catcher.
On the mound, Green will provide a formidable duo with senior lefty Joe Kornbrust.
This early in the season, though, Stoll wasn't willing to start handing out starting positions just yet.
"Everything's wide-open," he said. "There's no guarantee. Just because you're a senior, that doesn't mean you're owed a starting job."
Expectations are lofty, according to Stoll, who said his team had the necessary tools to make a return trip to state.
At Free State High, coach Mike Hill's team might have even more veterans than LHS. Of the 18 varsity Firebirds, a school-record 12 are seniors. Six offensive players return to the team's everyday lineup, which includes second-team all-state third baseman John Wilson. Hunter Scheib, Jordan Dreiling, Adam Rock, Alex Hardman and E.J. Swanson also return offensively.
Just as impressive may be that the entire pitching staff returns as well, led by lefties Caleb Gress and Cody Lown. Swanson also pitched, setting a school record with six saves last season, and Hardman likely will be the team's set-up man in the middle innings.
Hill said the depth of the pitching staff was as good as he had seen it, and that its strength had been evident during the first few weeks of practice.
"It's typical of this time of year," Hill said of his team's progression thus far. "The pitching is way ahead of the hitting. And that has to do with the quality of the staff we have."
The Firebirds finished last season 16-5, but were left with a bitter taste in their mouths when they lost to underdog Lawrence, 8-1, in the playoffs.
Hill said his team had moved past the loss to LHS.
"It's not about beating (Lawrence), it's about winning the whole thing," Hill said. "They are competitive enough that they didn't feel like they put their best foot forward. And I think that's a motivating factor for them."
The Lions opened the season this weekend with a tournament in Oklahoma. Free State will kick off its season Saturday at K.C. Washington.
Copyright 2018 The Lawrence Journal-World. All rights reserved. This material may not be published, broadcast, rewritten or redistributed. We strive to uphold our values for every story published.