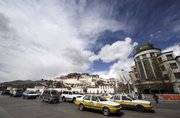 Beijing — China acknowledged for the first time Thursday that anti-government riots that rocked Tibet last week have spread to other provinces, while communist authorities announced the first group of arrests in connection with the violence.
The moves came as the government sent armed police into far-flung towns and villages to reassert control in the Tibetan areas of western China as sporadic demonstrations against Chinese rule in Tibet continued to flare up.
A top Beijing Olympics official vowed the unrest would not disrupt plans for the torch relay preceding this summer's Olympics in Beijing. One leg of the relay is to pass through Tibet, taking the flame to the peak of Mount Everest sometime in May.
The official Xinhua News Agency said there were "riots in Tibetan-inhabited areas in the provinces of Sichuan and Gansu, both neighboring Tibet." It blamed both incidents on supporters of the Dalai Lama, Tibet's exiled spiritual leader.
The Xinhua report confirms previous claims by exile Tibet activist groups that the protests had spread. Foreign journalists have been banned from going to Tibet and stopped by police from entering areas in other provinces large with Tibetan populations.
The Tibet Daily reported that 24 people had been arrested for endangering state security, and for other "grave crimes" for their roles in last Friday's riots in Tibet's capital, Lhasa.
"This incident has severely disrupted the social order, harmed people's life and property, and these illegal acts organized, pre-planned, and well-designed by the Dalai clique," Lhasa deputy chief prosecutor Xie Yanjun was quoted as saying.
"We have to strike the aggressive criminals on the basis of facts guided by law," he said.
Xinhua said late Wednesday that 170 people had surrendered for their role in last week's riots in Lhasa. China says 16 people were killed, denying claims by Tibetan exile groups that 80 died.
Despite an expanding police crackdown, Tibetans have continued to take to the streets to call for Tibet's independence and the return of the Dalai Lama, their exiled spiritual leader.
Hundreds of protesters, some on horseback and others on foot, stormed a government compound in the town of Hezuo in Gansu province Tuesday crying "Free Tibet." Whirling lassos and shaking fists, they burned the Chinese flag and hoisted the emblem of an independent Tibet.
The dramatic footage was captured by a Canadian television crew and aired by the British Broadcasting Corp.
The protesters were driven off by police wielding clubs and quickly dispersed after paramilitary reinforcements arrived. There were no reports of serious injures or arrests.
Police also quelled a small protest Tuesday in Lhasa, an employee of the local Coca-Cola bottler told The Associated Press.
By Wednesday, authorities appeared to be gradually regaining control in Tibet as well as the surrounding provinces where more than half of China's 5.4 million Tibetans live. Moving from town to town, police checked IDs and set up roadblocks to keep Tibetans in and reporters out.
Journalists in Gansu province saw towns that were like armed camps, with police lining the streets and few ordinary people venturing outdoors.
Copyright 2018 The Associated Press. All rights reserved. This material may not be published, broadcast, rewritten or redistributed. We strive to uphold our values for every story published.