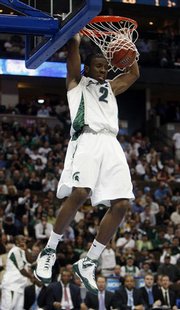 DENVER (AP) - No longer a one-man show, Michigan State hopes its deeper bench will lead to a long run in this year's NCAA tournament.
Raymar Morgan led a balanced scoring attack with 15 points and the Spartans beat Temple 72-61 Thursday in the first round of the South Regional.
Last year, Drew Neitzel was the Spartans' only option on offense. Now, he's got scorers swarming all around. Chris Allen scored 12 points and Drew Naymick finished with 10 for fifth-seeded Michigan State, which goes nine deep and will face the Pittsburgh-Oral Roberts winner Saturday at the Pepsi Center.
Mark Tyndale scored 16 points for Temple (21-13), which was making its first trip to the NCAA tournament since losing to Michigan State in a 2001 regional final. Dionte Christmas, the Owls' leading scorer, was limited to three points, 17 below his average, on 1-of-12 shooting.
The balanced Spartans (26-8) are making their 11th straight trip to the NCAA tournament, but they haven't advanced out of the second round since 2005, when they lost to North Carolina in the national semifinals.
Neitzel was a freshman on that team and acknowledged this week that as his college career winds down, he thought he'd have cut down a lot more nets and left a bigger imprint on the program than he has.
Neitzel, who averages 14.2 points, scored just five points on 2-of-11 shooting. He didn't score until swishing a 3-pointer in the final minute of the first half, which ended with the Spartans ahead 35-26.
The Spartans led by 19 with 8:49 left before the Owls made a run to make it respectable, and they did it with Neitzel on the bench in foul trouble.
Neitzel never appreciated Michigan State's balanced attack more than Thursday, when he picked up his second foul with less than a second left in the first half and was whistled for his third just 26 seconds into the second half.
The Spartans used a 15-2 run in the first half to take a 30-17 lead. Seven different players scored points during the spurt, which was capped by a bucket from defensive specialist Idong Ibok - who averages less than a point.
Keying the run was the Spartans' stingy defense, which flooded the paint with arms and legs and hips and denied Christmas many open looks. The one time he did have an open shot, he was hammered on a 3-pointer but the official standing next to him called no foul.
Tyndale also thought he was hit on his right elbow, forcing an airball on a 3-point attempt in the closing minutes of the first half, but the officials again didn't see it that way, leaving the flustered Owls shaking their heads.
Morgan guarded Christmas most of the time, switching off with Travis Walton, the Spartans' best perimeter defender, and Michigan State did a wonderful job denying him the ball.
Christmas didn't score until the 13-minute mark of the second half, pulling the Owls to 44-30, but he later forced a 3-pointer and also a pass that led to easy buckets for the Spartans.
Things got so bad for Christmas that even when he found himself open under the basket in the waning minutes, his teammates didn't find him.
Just before picking up his fourth foul and taking a seat on the bench, Neitzel missed a runner that Naymick soared in to slam down the rebound for a 58-39 lead.
While Neitzel was gone, however, the Owls cut Michigan State's led to 64-54, forcing a timeout with 3:21 left.
Fran Dunphy, who took Penn to nine NCAA tournaments before taking the challenge of resurrecting Temple, used the recruits he inherited from John Chaney two years ago, but the Owls looked nothing like the teams that the Hall of Fame coach used to bring to the tournament.
When Dunphy succeeded Chaney, he ditched the half-court offense for an up-tempo style. He threw away the old matchup zone that Chaney used to baffle opponents, and replaced it with a tough man to man.
The Owls struggled through a 12-18 season in Dunphy's first year and then shook off a 6-8 start to win the Atlantic 10 championship this season, beating rival Saint Joseph's 69-64 in the title game.
But they couldn't keep up with the Spartans, who outran and outmuscled the Owls.
Copyright 2018 The Lawrence Journal-World. All rights reserved. This material may not be published, broadcast, rewritten or redistributed. We strive to uphold our values for every story published.