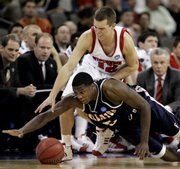 Omaha, Neb. — The bullies of the Big Ten won, but not before little ol' Cal State Fullerton gave them a scare.
Wisconsin couldn't shake the 14th-seeded Titans until deep into the second half Thursday night, before winning 71-56 in the first round of the NCAA tournament. The Badgers advanced to a Saturday game against Kansas State in the Midwest Regional.
The Badgers shot 42 percent and committed 17 turnovers, but they blocked seven shots and outrebounded the Titans 50-27.
That was enough to overcome a career-high 31-point night by Fullerton's Josh Akognon, whose five 3-pointers always seemed to come just when it looked as if the Badgers were about to pull away.
Brian Butch scored 14 points and Joe Krabbenhoft and Jason Bohannon 13 apiece for the Badgers (29-4), who won for the 24th time in 26 games.
Frank Robinson added 11 points for the Titans (24-9).
"We weren't taken aback at all," Butch said. "This is the NCAA tournament, so you expect everything. We knew they were a heck of a team when we got here. They fought us hard and continued to fight hard the entire game."
The win came as a relief to a Wisconsin team that well remembers the disappointments of the last two tournaments. In 2006, the Badgers lost to Arizona by 19 points in the first round. Last year, as a No. 2 seed, they were upset by UNLV in the second round.
The Titans, in the tournament for the first time since 1978, were bidding to pull the biggest tournament upset since No. 14 Northwestern State toppled Iowa 64-63 in 2006.
Their undersized squad wasn't intimidated by the nation's top defensive team. The Titans came in as the nation's No. 5 scoring team, at 82.7 points, and their 56 points were a season low.
The Badgers started wearing down the Titans by the middle of the second half. Michael Flowers' three-point play and Greg Stiemsma's baseline jumper pushed Wisconsin's lead to nine points and brought the Badger faithful to its feet, calling for a stop.
Sure enough, Trevon Hughes came up with a steal and Krabbenhoft finished a fast break to give the Badgers their first double-digit lead with 12 minutes left.
On the eve of the tournament, Fullerton coach Bob Burton complained that he hated his team's draw and suggested victory was an impossibility.
His players must not have heard that, because they battled well until the Badgers' brawn took over.
"I thought our guys responded well to a very hard fought game, especially in the first half," Wisconsin coach Bo Ryan said. "They have unlimited range, a couple of their guys, and they're very scrappy on defense. Bob has done a heck of a job with that group. I can see how they got here."
Fullerton went at the Badgers right from the start. Akognon made 3 of his first 4 shots as the Titans took a 16-10 lead.
The Titans might have been tempted to stop the game right there and take a picture of the scoreboard. Afterall, when Bohannon hit a 3-pointer to start a 10-0 Wisconsin run and Fullerton missed 13 of its next 17 shots, it looked like game over.
And the Titans easily could have been demoralized after Wisconsin's Marcus Landry stuffed Kenneth Alexander in mid-shot, grabbing the ball away as if Alexander were a child, or when 6-foot-1 Stiemsma effortlessly slapped away an inside shot by 6-6 Andrew Green.
But Fullerton wouldn't give an inch the first half - even though its starters gave up a combined 15 inches to Wisconsin on paper.
The 6-4 Robinson pounded that point home late in the first half when he dunked in the face of the 6-7 Krabbenhoft. Later, Akognon hit a baseline jumper to tie it 28-28 in the final minute of the half. Stiemsma's putback put Wisconsin on top 30-28.
"Every game has a run. They had a run. We had a run," Butch said. "That's one of the reasons we have been so successful is that we have stayed even keel with things when other teams have made runs. We've stayed calm and focused."
Copyright 2018 The Lawrence Journal-World. All rights reserved. This material may not be published, broadcast, rewritten or redistributed. We strive to uphold our values for every story published.