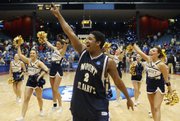 DAYTON, OHIO — The Mount finally got The Win.
Jeremy Goode scored 21 points Tuesday night, and Mount St. Mary's got its first NCAA tournament victory, beating Coppin State 69-60 in an opening-round game with two teams that know a lot about losing.
The Mountaineers (19-14) won their last five games to shed their losing record and make the tournament, then got the one victory that's always been well out of reach. In its two other NCAA appearances, Mount St. Mary's lost to Kentucky by 46 points in 1995 and to Michigan State by 23 in 1999.
No time to savor this one. Tournament reality hits on Friday, when the Mount plays top-seeded North Carolina in Raleigh - virtually the Tar Heels' backyard. Fans in the crowd of 8,464 at University of Dayton Arena held up signs calling on the play-in winner to "Bury N. Carolina."
Tough chance for that. A 16th seed has never taken down a No. 1.
But, that's a challenge for later. For a few sweet minutes on Tuesday night, Mount St. Mary's got to savor a breakthrough win over another Maryland school separated by about 60 miles.
Coppin State (16-21) became the first team to reach the tournament with 20 losses, and the Eagles looked out of place in the closing minutes. They went five minutes without scoring, and that allowed Mount St. Mary's to break it open.
Goode, a 5-foot-9 sophomore guard who knows a little about Carolina blue because he grew up in Charlotte, was the spark for Mount St. Mary's up-tempo offense. He did it all, driving to the basket and hitting fadeaway jumpers over much taller players.
He also supplied the final touches, hitting four free throws in the last 27 seconds.
Tywain McKee led Coppin State with 15 points.
Perhaps no other opening-game winner enjoyed it so much and complained so little. Unlike previous years, there was no grousing about having to open the tournament in Dayton.
Not from Mount St. Mary's, the Northeast Conference champ which had a losing record before it ran off five straight double-digit wins to close the season and reach the NCAA tournament for the first time since 1999.
Coppin State? No way.
Marooned at 4-19 in early February, the Eagles sneaked into the tournament for the first time since 1997 by winning the Mid-Eastern Athletic title.
No one could grouse about the game, either. For the most part, they didn't play like teams with a combined 35 losses. Coppin State used its quickness, going inside for dunks and layups. Mount St. Mary's trio of dangerous guards did most of the damage.
Coppin State was ahead the entire first half, leading by as many as nine. The Mountaineers' guards changed the tone after halftime, when Chris Vann's three-point play put Mount St. Mary's up 39-34.
It went back-and-forth until Coppin State went cold at the end.
Copyright 2018 The Associated Press. All rights reserved. This material may not be published, broadcast, rewritten or redistributed. We strive to uphold our values for every story published.