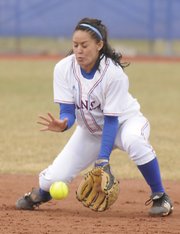 Kansas University's softball team wrapped up a nine-game homestand with back-to-back victories over Bradley on Tuesday at Arrocha Ballpark. The Jayhawks won, 2-0 and 3-2.
In the first game, pitcher Valerie George recorded her fourth shutout of the year. She retired the last 19 Braves batters that came to the plate against her and allowed just one hit.
Her Big 12-leading ERA dropped to 0.69 after the shutout. George also added eight strikeouts on the day.
The teams found themselves tied at 1 late in the second game, but Kansas strung together three hits in the in the bottom of the fifth to score two runs.
Bradley threatened the Jayhawks' lead in its final at-bat, but Valerie George struck out the final two batters to end the contest.
KU will travel to Oklahoma for games at 7 p.m. Friday and 1 p.m. Saturday.
Chapple honored
The Amateur Softball Association named Kansas University third baseman Val Chapple its national player of the week. The Big 12 Conference also tapped Chapple its player of the week.
Chapple went 7-for-8 with four home runs and a double in three games last week.
Copyright 2018 The Lawrence Journal-World. All rights reserved. This material may not be published, broadcast, rewritten or redistributed. We strive to uphold our values for every story published.