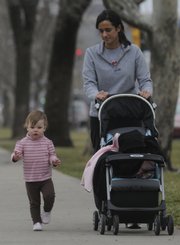 Top 10 in Kansas
Here's how Kansas cities ranked in the survey of most walkable cities:
1. Lawrence2. Manhattan3. Overland Park4. Shawnee5. Lenexa6. Olathe7. Topeka8. Kansas City9. Wichita10. Salina
It was a free and furry Tuesday morning adventure for 2-year-old Eoghan Greenwell who was walking along Massachusetts Street with his mother.
A fellow walker with a tiny, kid-friendly dog stopped to give the excited toddler a chance to pet its snout.
"Oh, so soft," Eoghan's mother, Alix Stephan, said as she petted the dog and the young boy bear hugged her leg.
Certainly not a life-changing event, but still a welcome diversion that wouldn't have been possible had Stephan and her son not been out for a stroll.
"Something like that would never happen in a car," Stephan said. "That's what I really love about walking. In some strange sort of way it does little things to bring a community together."
If that's the case, there's no better place in the state for such adventures than Lawrence, according to a new ranking of the most walkable cities in the country. Lawrence was deemed the most walkable city in the state and the 38th most walkable in the country in a ranking by Prevention magazine and the American Podiatric Medical Association.
City leaders generally were pleased with the ranking, saying that it showed efforts to make walkability a more top-of-mind issue were paying off.
"Our new development code, for example, requires sidewalks on both sides of the street for new developments," Mayor Sue Hack said. "I think that goes a long way to saying we want a safe place to walk."
But before you add that extra bounce to your step, keep the ranking in perspective. The magazine looked at several factors, but a major one it didn't was the condition of city sidewalks. The study also didn't look at how well sidewalks are cleared of snow.
City commissioners said they know both issues are a problem.
"I think this ranking is a sign that we're doing some things right, but I know we could do a lot better," City Commissioner Boog Highberger said.
Both Highberger and Hack said the city needs to have a discussion about whether to begin sharing in the costs to improve cracked and deteriorated sidewalks. City ordinances make it the responsibility of adjacent property owners to repair sidewalks. Both commissioners, though, made no promises about the city taking on the responsibility given the tight economy.
"But I think we do all understand that if we want to be walkable, it has to be safely walkable," Hack said.
The city scored highly in several areas in the magazine's ranking. A panel of walking experts - largely urban planners - rated Lawrence highly based on past experiences they had in the community. No other Kansas city was ranked as highly by the panel of experts.
Lawrence also was the top-ranked Kansas city in terms of having parks that are easily accessible to pedestrians. It ranked second in the state in percentage of residents who use mass transit and the number of schools that are near neighborhoods, and the second lowest number of cars per household. The city's downtown also was ranked as having the second most number of walkable destinations, trailing downtown Wichita.
Lawrence was the only Kansas community in the top 100. Wichita and Salina both were ranked among the 25 least walkable communities. Cambridge, Mass., was deemed the most walkable city of the 500 communities in the report.
Hack and Highberger said they thought Lawrence would become an even more walker-friendly community in the future. The city is in the process of passing a "Smart Code" that will give developers more options in how they build neighborhoods. An emphasis of the code is to encourage more use of residential and commercial developments.
"We may not go back to the era where there is a corner store for every neighborhood, but I think it will move us closer to that era," Highberger said.
Copyright 2018 The Lawrence Journal-World. All rights reserved. This material may not be published, broadcast, rewritten or redistributed. We strive to uphold our values for every story published.