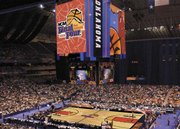 Related document

Big 12 Spotlight 03-19-08 ( .PDF )
What Keegan says
Nobody should be surprised if Kansas and Texas meet again in the national title game, just as it shouldn't shock anyone if the Big 12 goes 2-4 in first-round games.
Oklahoma received a surprisingly high No. 6 seed, but didn't catch a break getting pitted against Saint Joseph's, which twice defeated No. 3 seed Xavier.
Kansas State wasn't done any favors with a draw against USC, which has the young talent to match K-State.
Baylor was fortunate to draw a perimeter-oriented team, but Purdue has beaten Wisconsin twice.
Texas A&M; will have a difficult time getting past BYU with the inside-outside combination of Trent Plaisted and Lee Cummard.
- Tom Keegan
It's one day away from the Big Dance and Big 12 Conference teams are sprinkled across all areas of the bracket in anticipation for the most exciting time in college basketball.
There's a Big 12 team in each region of the bracket: Kansas and Kansas State in the Midwest; Texas in the South; Baylor and Texas A&M; in the West; and Oklahoma in the East.
The Big 12 crashed the Dance in mass quantity this year, registering more teams than any other conference except the eight teams from the Big East, which has a 16-team composition, and the six teams from both the Pac-10 and SEC.
Could any team from the Big 12 win it all? There are certainly the front-runners from Lawrence and Austin. It would be a historic moment, considering no Big 12 team has won the NCAA Tournament since the conference's inception during the 1996-97 season.
Here's who has a shot (and who may not):
Tier I - The best bets
1. Kansas (31-3, No. 1 seed, Midwest region)
First-round matchup: No. 16 Portland State (23-9)
Scouting opponent: As nice a story as the Big Sky champions are (winning 14 of their last 15 games), they certainly won't make it 15 of 16. A glance at the schedule revealed the Vikings have actually played another No. 1 seed: UCLA, which won the Nov. 9 game by 21.
Opponent to watch: G Jeremiah Dominguez. The Big Sky Player of the Year averages 14.3 points and 4.1 assists per game.
Line: Kansas by 23
The road ahead: Should KU win its first-round game, it would see No. 8 UNLV or No. 9 Kent State. The Jayhawks approached juggernaut offensive status against Texas in the Big 12 title game, converting nearly 50 percent of their shots and knocking down 15 three-pointers. If KU plays near that level, the only team standing between it and a Final Four is Georgetown, which ranks first in the nation in field-goal percentage defense.
Last Final Four: 2003
2. Texas (28-6, No. 2 seed, South region)
First-round matchup: No. 15 Austin Peay (24-10)
Scouting opponent: Take a quick guess where Austin Peay is. If you guessed Texas, logical guess, but try again. The Governors actually reside in Clarksville, Tenn. Anyways, enough with the geography talk. Austin Peay faced respectable competition this season. It saw three Tournament teams, including Memphis and Vanderbilt. Austin Peay lost to the in-state powers by 22 and 14, respectively.
Opponent to watch: G Todd Babington. Not Austin Peay's leading scorer, but the MVP stepped up with 24 points in the Ohio Valley Conference title game.
Line: Texas by 16
The road ahead: If Texas can get out of its first two rounds, its Sweet 16 game would be in Houston, home to the largest UT alumni base.
Last Final Four: 2003
tier II - noise makers
3. Texas A&M; (24-10, No. 9 seed, West region)
First-round matchup: No. 8 BYU (27-7)
Scouting opponent: BYU might be in the Mountain West Conference, but it faced stiff competition in its non-conference, including North Carolina, Louisville and Michigan State. BYU beat Louisville. The Cougars rank 10th in the nation in field goal percentage defense.
Opponent to watch: G Lee Cummard. Solid rebounding guard. Along with his 15.8 points per game, he also averages 6.4 rebounds.
Line: Texas A&M; by 2
The road ahead: In one word, difficult. Even if the Aggies win their first-round game, the UCLA Bruins loom ahead in the second round in Anaheim, Calif. Home court advantage? Likely.
4. Kansas State (20-11, No. 11 seed, Midwest region)
First-round matchup: No. 6 USC (21-11)
Scouting opponent: Arguably the most anticipated first-round matchup in the entire tournament. Big 12 fans know about K-State's freshman tandem of Michael Beasley and Bill Walker. USC's top five leading scorers are either freshmen or sophomores.
Opponent to watch: G O.J. Mayo. The freshman is one of the best guards in the nation (20.8 points per game). Keep an eye out for friendly jabbing between Walker and Mayo. They're both from Huntington, W.Va., and played on the same summer AAU team.
Line: USC by 2.5
The road ahead: If K-State wins the youth showdown, it likely will face Wisconsin in round two.
Tier III - Long shots
5. Oklahoma (22-11, No. 6 seed, East region)
First-round matchup: No. 11 Saint Joseph's (21-12)
Scouting opponent: The only reason St. Joseph's isn't seeded higher is because of inconsistent losses to teams like Dayton, Saint Louis and Duquesne.
Opponent to watch: G/F Pat Calathes. The versatile Calathes averages 17.8 points per game and is the Hawks' best foul shooter at 82.2 percent.
Line: Oklahoma by 1.5
The road ahead: Should OU win, it likely would have No. 3-seeded Louisville in the second round.
6. Baylor (21-10, No. 11 seed, West region)
First-round matchup: No. 6 Purdue (24-8)
Scouting opponent: This should be the classic offense vs. defense matchup. The Big 10 prides itself on low-scoring affairs, while Baylor likes to air it out with its five-guard rotation.
Opponent to watch: G E-Twaun Moore. He had 22 points in the conference tournament loss to Illinois.
Line: Purdue by 3
The road ahead: Should Baylor win, it would play the No. 3 Xavier/No. 14 Georgia winner. The Bears are a long shot, but perhaps the magic of receiving the last bid will carry on for a few rounds.
Copyright 2018 The Lawrence Journal-World. All rights reserved. This material may not be published, broadcast, rewritten or redistributed. We strive to uphold our values for every story published.