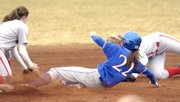 Eight Jayhawks combined for 12 hits as the Kansas softball team defeated Louisiana Tech, 11-3, in five innings Sunday during the final contest of the Kansas Invitational.
KU, which has won nine of its last 10 games, improved to 21-6, while Louisiana Tech fell to 16-14.
In the bottom of the fifth inning, Dougie McCaulley doubled to left field, sending Amanda Jobe, who had led off the inning with a single, to third. Val Chapple proceeded to tally her third RBI of the game with a sacrifice fly to the left fielder that scored Jobe. With McCaulley on third and the Jayhawks one run away from a run-rule victory, Louisiana Tech's Wanda Malone threw a pitch high and past the catcher, allowing McCaulley to cross home plate and send everyone home.
Kansas scattered nine hits over the first three innings to jump to an early 9-1 lead, including five runs in the second. Louisiana Tech had just two hits through the first three innings and six for the game.
Chapple and Ally Stanton led the Jayhawks' offensive efforts, batting in three runs apiece. It was a career high for Stanton.
McCaulley was 3-for-4 from the plate and has a team-high 11 multi-hit games this season.
Kansas will wrap up its nine-game homestand at 3 p.m. Tuesday when it faces Bradley in a doubleheader.
Copyright 2018 The Lawrence Journal-World. All rights reserved. This material may not be published, broadcast, rewritten or redistributed. We strive to uphold our values for every story published.