Photo Gallery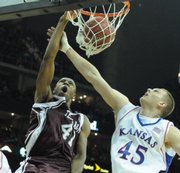 KU vs. Texas A&M
Kansas City, Mo. — Texas A&M; coach Mark Turgeon thought his team needed at least one victory in the Big 12 tournament to lock up an NCAA Tournament berth.
The Aggies ended up getting two, making their resume quite a bit stronger despite losing to Kansas University, 77-71, in the semifinals Saturday.
The question is, was it enough to keep them calm before today's NCAA Tournament selection show?
Not likely.
"It's going to be pretty anxious," senior Dominique Kirk said. "We just want to see where we're going and take it from there."
For the most part, several Aggies felt confident about their NCAA Tournament chances when asked after Saturday's game. They're 24-10 and had three good showings at the Sprint Center, beating Iowa State and Kansas State and taking the Jayhawks into the final minute. A victory over Baylor in the last week of the regular season helps, as does an earlier victory over Texas.
But Texas A&M; went just 8-8 in Big 12 regular-season play, and no .500 team in the conference ever has gone to the Big Dance. The Aggies also had bizarre losses, including a 14-point defeat to Nebraska at home on Feb. 23.
That made the Big 12 tournament more important for Texas A&M; than perhaps any other team in the league.
"Our backs were against the wall coming over here," Turgeon said. "We knew we had to win one for sure. And we got two and pushed maybe a No. 1 seed to the limit in front of their home fans. So we did a lot of good things."
And the Aggies did them short-handed.
They played Saturday's game with a hobbled and heartbroken point guard in Donald Sloan, who sprained his ankle in the first half and left immediately following the game to be with his family after his mother's death on Thursday.
In addition, center DeAndre Jordan continued to feel the effects of a stomach virus, which limited him to nine minutes total in the three tournament games.
With Jordan hampered, Bryan Davis stepped up against Kansas and contributed 16 points and seven rebounds. His most memorable - or hilarious - bucket came in the second half when he winged a ball one-handed toward the goal with the shot clock expiring. It banked in for his first career three-pointer.
"I just threw up a prayer," Davis said, "and hoped it went in."
They could use a little more of that karma today. A victory on Saturday would have all but guaranteed the Aggies a spot in the field of 65, but it's possible they're in good shape anyway.
It could be a nerve-racking afternoon of waiting before the 5 p.m. selection show. But not everybody is feeling doubts - at least not on the surface.
"I feel good about our chances going to the tournament," Davis said, "and IN the tournament."
Copyright 2018 The Lawrence Journal-World. All rights reserved. This material may not be published, broadcast, rewritten or redistributed. We strive to uphold our values for every story published.