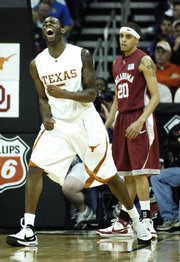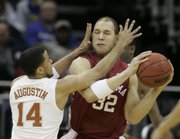 Kansas City, Mo. — Texas basketball coach Rick Barnes met with guard A.J. Abrams on Friday night, intent on giving his marksman some comfort during a dreadful 2-for-17 three-point shooting slump.
"I said, 'You've gone beyond a guy that has to make shots to be effective,'" Barnes said.
The back door toward getting those treys to drop again, perhaps.
Something clicked from that meeting. Abrams drilled seven three-pointers and finished with 24 points Saturday, powering top-seeded Texas over No. 4-seeded Oklahoma, 77-49, in a Big 12 tournament semifinal at the Sprint Center.
UT's victory, followed by Kansas University's 77-71 triumph over Texas A&M;, sets up a Kansas-Texas showdown in the Big 12 tournament final for the third straight year.
It was an impressive pasting by Texas, considering the game was tied early in the second half. After a 7-0 run by Oklahoma tied the score at 36, the Longhorns (28-5) outscored the Sooners, 41-13, the rest of the way.
The 18-minute beatdown was started by Abrams, who drilled back-to-back three-pointers to put Texas back on top, 42-36.
It was on, and Texas never really let off the gas until the final horn sounded.
"We got it going today," Barnes said. "I mean, we really started shooting the ball well. When we do that, we can be hard to guard."
Afterward, Abrams looked the part of a relieved sharpshooter. He had hit just two threes his last three games despite plenty of looks and was 10-of-42 from beyond the arc over his last six contests.
With his touch back, Texas cruised against a likely NCAA Tournament team in Oklahoma, now 22-11.
"(Barnes) did a great job," Abrams said. "We had a talk last night, and he boosted my confidence a lot. Just the couple of things he said to me and what I do for this team. That really helped."
The Longhorns' surge set up yet another Kansas-Texas championship showdown - the third different tournament meeting in the third different city in three consecutive years. The Jayhawks won the last two Big 12 tournament finals over the Longhorns, though Texas was a 72-69 victor in the schools' only meeting so far this season.
"Kansas, I've said all along : I think they're the best team we played all year," Barnes said.
Bold statement, considering Texas beat Tennessee and UCLA and barely lost to Wisconsin and Michigan State during the nonconference season.
Kansas coach Bill Self matter-of-factly called Texas the best team KU has faced, too. That's likely, considering the Jayhawks' schedule - and obvious when UT has players like Abrams feeling as though they can't miss.
"It feels real good right now," Abrams said, "just finally knocking down some shots."
Copyright 2018 The Lawrence Journal-World. All rights reserved. This material may not be published, broadcast, rewritten or redistributed. We strive to uphold our values for every story published.