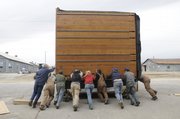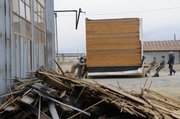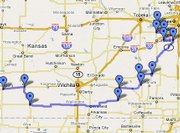 KU architecture students move a building from Lawrence to Greensburg.
Packing and moving 402 miles is no easy task, but packing and moving an entire building - walls and all - 400 miles is a task just short of Herculean.
A group of Kansas University students and their professor, along with seven semitrailers and a crane, will do just that Monday when they take the building they built in a warehouse on the site of the old Farmland Industries plant and transport it to Greensburg, as part of the reconstruction effort for the tornado-ravaged town. Of course, the drive to Greensburg is only 270 miles by the most efficient route, but because of the need to dodge overpasses and narrow roads, the convoy will go east past Wellsville before heading west.
Zack Arndt and his fellow graduate students have been building this structure, a new community building, since January, starting with a trip to the former Sunflower Army Ammunition Plant in De Soto to gather wood for the project. This week, they started to disassemble their creation so it could make the trip out of town.
"It's the next step," Arndt said. "It's just another milestone in the project. We have a lot more work to do."
Some of that work includes installation of electrical fixtures, painting, flooring and foundation work. The seven pieces of the building will have to be joined back together as well.
So from Monday until May 4, the 22 graduate students in Dan Rockhill's Studio 804 class will live in southwest Kansas. Because of the already existing shortage of buildings in Greensburg, they'll be living in Pratt Community College dorms and drive a half hour to Greensburg each morning.
"May 4, the one-year anniversary of the storm, is the deadline, but we'd like to be done a couple of weeks before that, just so we can tie up some loose ends," Arndt said.
The building will be named 547 Arts Center, a direct reference to the date Greensburg was leveled by a massive tornado: 5-4-2007.
"I don't think my emotions could have swelled much more throughout this process because I've been waiting so long for it," said Jenny Kivett, another graduate student working on the project. "But to know it's going to a place that needs it and to people that appreciate it and want it is something very special and exciting."
Kivett said the undertaking has been a massive one, with little opportunity to sit back and feel the way through the process.
"We all got pushed out of the nest basically and were told to fly," she said. "I pretty well expected what was going to happen, never fully thinking I was ready to do it."
But, evidently, the students are ready.
"At the beginning of the semester I had mere boy hands. Now they've developed into man hands with calluses and dirt," Arndt said as he showed off a pair of paws that seemed to have not seen a sink in a week or two.
All that remained to be done Friday was packing of tools and materials into the building modules and then to seal them with waterproof materials.
The building pieces will sit over the weekend in preparation for the Monday morning trip. As of Friday, the plan was to leave for Greensburg at 7 a.m. with an estimated arrival nine to 10 hours later.
Copyright 2018 The Lawrence Journal-World. All rights reserved. This material may not be published, broadcast, rewritten or redistributed. We strive to uphold our values for every story published.