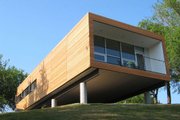 A house designed and built by students in a Kansas University architecture class received honorable mention in the Environmental Protection Agency's inaugural Lifecycle Building Challenge.
Winners in the nationwide competition were recognized for their cutting-edge green building ideas intended to reduce unwanted environmental and energy effects of buildings.
The house, called Modular 3, above, was designed and built by students in KU's Studio 804 and then moved to its current location at 534 Riverview Ave. in the Strawberry Hill neighborhood in Kansas City, Kan.
In November, the project was named "Home of the Year" by Architecture magazine.
Studio 804 is led by Dan Rockhill, a KU architecture professor. Lawrence students who worked on the project included Brian Belcher, Jonathan Holley and Karla Karwas.
Copyright 2018 The Lawrence Journal-World. All rights reserved. This material may not be published, broadcast, rewritten or redistributed. We strive to uphold our values for every story published.