Photo Gallery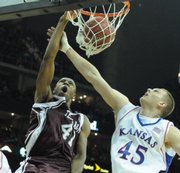 KU vs. Texas A&M
Some thoughts...from Kansas City
Gary Bedore, Journal-World KU men's basketball beat writer
"Rush picked a good day to have his best game. He was awesome the second half. The first half was no thing of beauty but by game's end it was a pretty fantastic outing with both teams going at it furiously. A&M; looked like an NCAA Tournament team the second half. KU looked like a national title contender. Should be a great final, a final that should of course be played on a Saturday, not a long Selection Sunday."
Tom Keegan, Journal-World sports editor
"No matter how long the run, how big the shots Kansas hit, the Jayhawks just couldn't shake Texas A&M.; That said far more about the Aggies, who played the best they had played in a long while, than it did about Kansas, which looked far sharper than in the quarterfinal victory."
Ryan Greene, KUSports.com editor
"Brandon Rush's 28 points were indeed incredible, and the way the Jayhawks' final box score looked, it was quite reminiscent of last year's UCLA game in San Jose. But the big difference, I thought, was Rush's defense on Josh Carter. A year ago, Carter was a 50-percent shooter from deep, leading the nation. This year, he's taken a slight step back, but is still dangerous. Saturday, he was 2-of-10 from the floor and 1-of-5 from three-point range. In two games against under Rush's watch in seven days, Carter went 3-of-21 from the field."
Inside the numbers
7: While offense was at a premium for a good chunk of the night for Kansas, the Jayhawks did a fantastic job of taking care of the ball. After turning it over 12 times in the first half alone Friday night against Nebraska, KU gave it away just seven times overall against A&M.;
26: Don't be fooled by the 26 three-point attempts Texas A&M; got off Saturday (hitting nine of them). While the number may be high, the majority of them were guarded, difficult looks. Brandon Rush got his hands on a couple of Josh Carter looks from long, and Darnell Jackson even flashed out to the perimeter to get in Dominique Kirk's face on deep threes.
9: Sherron Collins was able to swing momentum in Kansas' favor several times yet again thanks to his transition toughness. Collins scored nine points on 3-of-8 shooting, had four assists and no turnovers. That means in two games against Texas A&M; in a week, Collins totaled 22 points, 11 assists, four steals and zero giveaways. He was key in stepping up in place of Mario Chalmers late in the first half. Chalmers didn't have a great offensive night, and was limping for a bit after bumping his left knee.
25: The Jayhawks were outrebounded on the afternoon, 35-25, and a couple of players addressed that in the locker room afterwards, stressing that against Texas on Sunday, the tougher mindset of attacking the glass must set in. In case you had forgotten, in a 72-69 loss to Texas in Austin on Feb. 11, KU was outrebounded in the second half by Damion James alone, 13-12.
28: Of course, going inside the numbers in this game would be pointless without mentioning the career-high 28 points tallied by junior guard Brandon Rush. He was an efficient 9-of-13 from the floor, 5-of-8 from three-point range and only turned the ball over once after cursing himself for his four giveaways Friday night. His stepping up on offense covered up the struggles by both Mario Chalmers (four points, 2-of-5 shooting) and Darrell Arthur on that end of the floor (seven points, 3-of-7 shooting).
Just in case you missed it...
Texas A&M; made one heck of a case for an at-large berth in the NCAA Tournament field this weekend, entering Selection Sunday with a 24-10 record. Two wins in the league tournament helped, and playing Kansas to within six points in the semis Saturday might stand out for anyone on the committee who was watching. Add in that A&M; beat Baylor - another bubble team - a little over a week ago, and the Aggies certainly have a good shot. Though now they need to pull against Illinois and Georgia Sunday, two teams playing in the Big Ten and SEC title games, respectively, who could burst a bubble each should they pull off another upset.
Hopefully you didn't miss it...
For all the ups and downs the Jayhawks had towards the end of league play this year, KU won 30 games for the second straight season. The win, puts them at 30-3, and coupled with Tennessee's surprise loss to Arkansas in the SEC semis Saturday, the Jayhawks may still be in play for a last-second bump to a No. 1 seed. Texas, however, may not want a No. 1 seed. With Memphis probably securely in as the No. 1 seed in the South (with UNC No. 1 in the East), Texas might rather have the No. 2 in the South, which would put the Longhorns in Houston should they advance from the first weekend (probably played in Little Rock, Ark.).
They said it...
Cole Aldrich on Brandon Rush's 28-point performance: "It was a blast. We wish we'd seen him do that a lot more. I think I heard it's a career high, and that's great to do it in front of all of his family and friends here in Kansas City."
Brandon Rush on his big afternoon: "(Bill Self) runs specific plays for me, like every time we went down the court, we ran a play for me to try to get me the ball. I had a hot hand for awhile...I shot the ball terrible down in their spot, and I had a lot of turnovers, too. So tonight I only turned the ball over once and we came up with a big win and we're going to the championship game."
Brandon Rush on tomorrow's game: "It's not going to be a different team (that shows up). We're just gonna give more energy. We didn't get stops we needed to win that game, so they came up with a win. We're looking forward to playing them again...We're not gonna do anything different. We're gonna make sure Damion James doesn't beat us on the rebounds in the second half. That's what he did down there in Austin...I think tomorrow's game decides who's the best team in the Big 12, so we're looking forward to that."
Mario Chalmers on Brandon Rush's performance: "He was just being more aggressive. He had a lot of open looks and he was just knocking them down. He saw that me and Shady were kinda struggling tonight, so he picked it up for both of us and helped his team...We were telling him to keep shooting. He was hot tonight."
Mario Chalmers on the rivalry with Texas: "In my book, I think it's No. 1 (ahead of MU and KSU). Just because most of the times we play them it's for a championship, and a championship means more than a regular season game...I think it's a big rivalry. I saw D.J. (Augustin) and A.J. (Abrams) talk about it on TV today, talk about that most people say Oklahoma's their rival, but I agree with them - I agree us and Texas are big rivals now."
Darrell Arthur on rebounding better Sunday than the first time around against Texas: "It's just gotta be a mindset for us. When we've got that mindset, then we're a hell of a rebounding team. But they just killed us on the glass. Offensively, they got like eight offensive rebounds in the first half, we didn't do a good job with that. Texas killed us on the glass at their place, too. We've just got to have that mindset of going to the glass and attacking the glass more."
Darrell Arthur on his recent offensive struggles: "They're trapping a lot in the posts, which I knew was coming. So I've got to make that adjustment, just try to get easier baskets off offensive rebounds, stuff like that, gotta get myself going some kind of way. I can just get other teammates open. When they're trapping me, somebody's gonna be open. Brandon did a good job knocking down open shots today, he carried us today, so somebody's gonna make a shot, and we've got enough good players that somebody's gonna step up and score."
Russell Robinson on Brandon Rush's day: "It's as focused as I've seen him play in a very long time. He just knocked down shot after shot, and it wasn't all in one bunch. He was focused, he got his own shot, got his feet set and was able to knock down some good shots for us."
Russell Robinson on getting Darrell Arthur going: "I'm gonna be blunt. Part of it is his fault. You can't get into foul trouble early. At the same time, you've got to get him the ball, and get him going, keep his head into it. He's had two rough games here, but if anything, he's able to turn it around."
Bill Self on Brandon Rush: "He had a great look about him, didn't he? He was aggressive, he obviously made shots, but I wanted to take him out in the second half but he was on such a roll. The entire team played well the second half. We shoot 68 percent from the field, 75 percent from the line, turn it over three times, you'd think that you'd pull away and win, but it's a two-point game with a minute left. But Brandon was as good as I've seen him in the last three years."
Bill Self on Rush's defense on Josh Carter: "It was unbelievable, the job he does on Josh Carter, and then Muhlbach and Roland score on him. And not taking anything away from those guys, but I guess he put so much focus on guarding Josh, and then relaxed maybe a little bit when Muhlbach and Roland were in, because to be honest with you, he had two or three bad possessions defensively that cost us points, but he had some great possessions against Carter."
Copyright 2018 The Lawrence Journal-World. All rights reserved. This material may not be published, broadcast, rewritten or redistributed. We strive to uphold our values for every story published.