2008 Big 12 Tournament
Photo Gallery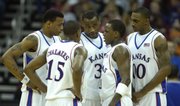 KU vs. Nebraska
Audio Clips
2007-08 March 14 KU-NU Hoops
Kansas City, Mo. — Darrell Arthur's a man. He's (almost) 20.
That's why 22-year-old Kansas University junior guard Brandon Rush won't get after the sophomore forward following Arthur's six-point performance on just 1-of-4 shooting in a 64-54 escape from Nebraska's first-half grasp in the first round of the Big 12 tournament on Friday at Sprint Center.
"I'm not gonna say nothin' to him. He's a grown man over there," said Rush, pointing in Arthur's direction in the Jayhawk locker room. "I probably won't say nothin' bad to him - I'll be like, 'You know we need you' - but other than that, he knows what he's gotta do for us to win and go deep (in the postseason).
"He knows what he does for this team and what his role is, and that's to put the ball in the hole."
While Rush's comments buck the there's-more-to-basketball-than-scoring theory, it's hard to argue against the necessity for Arthur to score not only big, but early.
In the final four games of the regular season - following the team's bonding venture at Henry T's - Arthur's versatile offensive package has been the difference for KU in the first halves of games, most notably in victories at Iowa State and Texas A&M.; Around those performances, the rest of KU's offense has tended to fall into place around Arthur.
Without that consistent safety valve Friday night - especially in the first half - the Jayhawks didn't have much of an offensive identity.
Arthur's first-half line included two points off free throws and an 0-for-1 showing from the floor. He added two more points from the line, a close-range layup off an offensive board and three second-half fouls, limiting him to 24 total minutes on the floor.
Arthur certainly didn't deny knowing his offensive importance.
"I think it's pretty valuable, because we've got to be versatile with in and out, and I've got to be able to score buckets," he said. "I missed a lot of easy buckets, and I got a lot of opportunities to score, but I didn't capitalize on them."
Of course, Arthur's offensive absence wasn't all his of his own doing. The Huskers trapped KU in the post, which helped force 12 first-half turnovers.
Despite the offensive struggles Friday, though, KU's guards don't plan to deviate from what worked in the final couple of weeks of the regular season when they take the floor again in the Big 12 tournament semifinals.
"It's just one game, and he's been able to turn it around all year," Russell Robinson said. "We're gonna need him to produce. : He's been a big factor for us. We've just got to continue to get him the ball and make him work."
Copyright 2018 The Lawrence Journal-World. All rights reserved. This material may not be published, broadcast, rewritten or redistributed. We strive to uphold our values for every story published.