Photo Gallery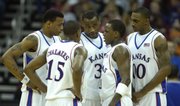 KU vs. Nebraska
Final, KU wins 64-54
KANSAS CITY, Mo. - It took about 20 minutes longer than would have been expected, given how Kansas University looked in its final four regular season outings, but the Jayhawks survived and advanced to the semifinals of the Big 12 Tournament.
The key 10-2 run in the Jayhawks' 64-54 win over Nebraska came immediately after halftime, with KU trailing 27-22. KU shot just 8-of-17 in the first 20 minutes, failing to find any offensive flow with leading scorer Darrell Arthur having hoisted just one shot.
The run was keyed by a Darnell Jackson dunk right off the bat thanks to a Mario Chalmers steal. Chalmers then cashed a three from atop the key, and following a Brandon Rush reverse layup while drawing a foul, Nebraska was never officially back in it, despite technically staying within range until the closing minutes.
KU advanced to face the winner of Friday's nightcap between Kansas State and Texas A&M; Saturday at 3:20 p.m. in the Sprint Center.
Sherron Collins again played his energetic role off the bench, leading the Jayhawks with 13 points. Darnell Jackson, who was KU's lone post presence for much of the first half, scored 12 and had eight rebounds, while Mario Chlamers had 12 points, five assists, three steals and three blocked shots. Brandon Rush and Sasha Kaun each chipped in nine points for the Jayhawks.
For more on this story, including complete postgame coverage, read Saturday's Journal-World and log back onto KUSports.com.
3:25, second half, KU leads 53-46
Paul Velander took a chunk out of KU's lead with a foul call to go along with a made three-pointer. His four-point play brought NU right back within range, but Aleks Maric picked up his fourth foul moments later.
Mario Chalmers bumped the Jayhawk lead back up to double figures with just under five minutes to play, hitting a one-handed floater along the right block while drawing a bump. His free thrwo gave him eight points and put KU up 53-43.
Jay-R Strowbridge hit a three atop the key right at the four-minute mark with 3:56 left, and KU had three chances to answer back on the next possession, but couldn't connect on any. Mario Chalmers made up for it with a steal just past midcourt, drawing a foul on Cookie Miller heading into a timeout at the 3:25 mark.
7:37, second half, KU leads 47-38
Brandon Rush hit a three from the right wing after the full break, giving him nine points on the night, forcing Doc Sadler into a full timeout call. Sek Henry slashed the lead a bit out of the break with an emphatic one-handed slam, but three Darnell Jackson points (one on a free throw, two on a two-handed throwdown from nearly behind the glass) gave KU a 40-36 lead at the 11:49 mark.
The lead blossomed to nine points at 45-36 just inside of the 10-minute mark. First, Darnell Jackson put himself in double figures with two free throws out of the timeout. Then, Sherron Collins threw up an awkward and-one shot from in close, adding a free throw.
After that possession, the momentum continued to build, with Aleks Maric being called for a walk, still having a tough night offensively with just six points.
Maric hit a mid-range jumper of Sasha Kaun then to snap a Nebraska drought, but Sasha Kaun again went to work against the Husker big man, hitting yet another short turnaround look.
14:30, second half, KU leads 34-31
KU woke up to start the second half right off the bat. Mario Chalmers forced a steal to start things off, feeding Darnell Jackson up the court for two. Chalmers then came down after a Nebraska tip-in on the other end to stroke a three from straight-on. That was followed with a Brandon Rush up-and-under layup while drawing contact. Rush missed the charity, but Darrell Arthur hit two of his own next to push the Jayhawks ahead 32-29, making it a 10-2 run to start the half.
Aleks Maric scored his third basket of the game on a two-handed dunk moments later to stop the run a bit, but Darrell Arthur's third-chance layup on the other end put KU ahead 34-31 heading into a full break at the 14:30 mark.
Halftime, NU leads 27-22
Cookie Miller was fouled on Nebraska's possession out of the timeout against a melting shot clock. He was hit by Darnell Jackson while throwing up an awkward three attempt. He made one of the three charities, but Paul Velander stretched the lead for Nebraska to nine points with a three following a travel call on Mario Chalmers.
Darrell Arthur finally got in the scoring column right at the one-minute mark on a bonus trip to the line, where he sunk both. Steve Harley couldn't answer for Nebraska, and Sasha Kaun's second turnaround two in close on the night pulled KU within five, with the Huskers holding for the last shot. Mario Chalmers swatted a Strowbridge three right at the buzzer.
Ade Dagunduro paced the Huskers with 10 points in the first half, while a pair of Paul Velander threes gave him six. Sasha Kaun was KU's leading scorer with five, while KU's two leading scorers on the year - Brandon Rush and Darrell Arthur - combined for just seven.
3:20, first half, NU leads 23-18
Aleks Maric scored his first points of the game out of the timeout, and a Jay-R Strowbridge three-pointer from the left wing put the Huskers up 21-14. Darnell Jackson answered with an and-one layup inside against Maric, but the free throw missed.
Moments later, Dagunduro appeared to put NU back up by seven with a follow-up dunk, but the bucket was waved off, with the refs ruling the ball was on the rim. But after Maric swatted a Jackson follow-up to a Russell Robinson three, Strowbridge scored inside off a Maric feed to make it a seven-point game again, leading to a 30-second KU timeout.
Mario Chalmers slashed to the bucket for his first two points of the game after the quick breather. A Russell Robinson foul off a Dagunduro steal led to the half's final full break, KU still trailing by five.
7:37, first half, NU leads 16-14
Dagunduro drove to the rack again and dropped in two out of the timeout, cutting the Jayhawks' lead to a point at 11-10. Paul Velander then placed the Huskers on top at 13-11 with a three against a dwindling shot clock. It was the result of Sek Henry recovering a near-steal by Russell Robinson.
Sherron Collins boosted KU back into things again on offense, slipping in two following a Mario Chalmers miss while drawing contact. His free throw gave him six straight points for KU. Dagunduro shot back again, hitting his second three of the game to put Nebraska ahead 16-14.
Nebraska drew a pair of fouls away from the ball, both on Cole Aldrich, heading into the game's third TV timeout.
11:07, first half, KU leads 11-8
KU forced a tie-up inside out of the timeout, but after Darrell Arthur drew a foul on Ryan Anderson, KU couldn't make anything of the possession. Sasha Kaun got to the free throw line inside on the next KU trip with the ball, hitting one of two to give the Jayhawks a three-point lead.
Steve Harley tied the game at 8-8 with a three from the corner after a loose ball scramble sparked by Cookie Miller kept possession with the Jayhawks. Sherron Collins hit his first three of the game in response on the right wing, pushing KU ahead 11-8 about nine minutes in.
14:05, first half, KU leads 7-5
Russell Robinson controlled the game's opening tip, but Darrell Arthur, after losing grip of a loose ball, was whistled for his first foul of the game just 14 seconds in.
Steve Harley missed a mid-range jumper to give the Jayhawks the gagme's first points, and Darnell Jackson gathered the defensive board. Jackson couldn't hit on a turnaround look off the glass on the ensuing possession, with Aleks Maric grabbing the glass this time.
Ade Dagunduro started the scoring on a slashing two, but Brandon Rush responded with a three to give KU a 3-2 lead just under two minutes in.
A pair of turnovers came next, with Arthur and Maric swapping bobbles, sending Arthur to the bench in place of Sasha Kaun.
Darnell Jackson ended the offensive drought which had struck both ends, laying one in in transition right at the 16-minute mark.
Dagunduro then hit a three after grabbing a defensive rebound off a Russell Robinson three miss. Sasha Kaun put the Jayhawks back on top a trip up the floor later with a turnaround in the paint against Maric.
Pregame
KANSAS CITY, Mo. - Phase one of the Jayhawks' postseason journey starts tonight, as Kansas University gets a chance to see if its late regular season momentum carries into the meat of March.
It begins with a 6 p.m. tip-off in Kansas City's Sprint Center against Nebraska in the Big 12 Tournament quarterfinals. The Huskers (19-11 overall, 7-9 Big 12) earned the right to play KU with a 61-56 win over Missouri Thursday night in KC.
KU (28-3, 13-3) hasn't played since last Saturday's regular season finale at Texas A&M;, which clinched a share of the Jayhawks' fourth straight league regular season title. KU is 2-0 this season against Nebraska, and in both outings was simply dominant. First, on Jan. 12 to open up league play, the Jayhawks ran to a 79-58 win in Lincoln. Two weeks later, KU downed NU by 35 points in Allen Fieldhouse, holding senior Aleks Maric scoreless for the first time this season.
Maric holds the key for Nebraska, as the first team All-Big 12 selection has struggled against Kansas throughout much of his career.
KU will be wearing its home whites as the higher seed, playing in front of a crowd containing plenty of Jayhawk backers. Nebraska will don its road reds.
Copyright 2018 The Lawrence Journal-World. All rights reserved. This material may not be published, broadcast, rewritten or redistributed. We strive to uphold our values for every story published.