2008 Big 12 Tournament
Photo Gallery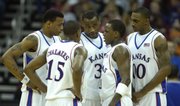 KU vs. Nebraska
Audio Clips
2007-08 March 14 KU-NU Hoops
Some thoughts...from Kansas City
Gary Bedore, Journal-World KU men's basketball beat writer
"That was the second worst game of the year. The Okie State loss was the worst. The good thing is KU was able to come back from a nine-point deficit to win. Survive and advance in all tournaments this time of year and the best thing you could say is KU survived."
Tom Keegan, Journal-World sports editor
"Kansas didn't show up for this one and if that sort of lackluster performance takes place anytime from the second round on in the NCAA Tournament, kiss this team's national title hopes goodbye."
Ryan Wood, Journal-World sportswriter
"One of the keys that got Kansas back on track - besides a probable chewing in the locker room at halftime - was an adjustment to keep Nebraska's Ade Dagunduro from doing whatever he wanted. He's an explosive player with a good shot, and matching up a big man on him in the first half was bad news jeans. Brandon Rush guarded Dagunduro in the second half, and he had three points. Kansas then scraped out the ugly victory."
Ryan Greene, KUSports.com editor
"Darrell Arthur had one shot attempt in 12 first half minutes. Darrell Arthur finished with six points on 1-of-4 shooting. Darrell Arthur picked up four personal fouls, including three bunched together in the second half. That can't be the case the rest of the way at all. In a week's time, you've now seen how smooth KU is offensively when he's on and things are working through him, and you've seen how bad it can look otherwise."
Inside the numbers
10: The Jayhawks jumped out on a quick 10-2 run in the opening moments of the second half, and that was the ultimate difference Friday night. It somewhat masked a sluggish and ugly first half, and combined with the excitement it generated from a KU-heavy crowd, it carried the Jayhawks the rest of the way.
6: KU had a tough time forming much of an offensive identity against Nebraska, and plenty of it stemmed from the inability to get the team's top scorer - Darrell Arthur - going early or often. The sophomore forward, who in the team's four-game win streak to close the regular season was huge in first halves of games, went 0-for-1 from the floor before halftime. His lone bucket of the night was a stickback underneath. KU's players agreed afterwards that winning consistently in the postseason can't happen that way.
3: There was no bigger thorn in KU's side in the first half than Ade Dagunduro, who in two regular season matchups with the Jayhawks was practically invincible. He scored 10 in the first half and was active in every way possible. In the second half, though, Dagunduro scored just three points while being hounded by Brandon Rush, who continues to form back into shape as a shutdown perimeter defender.
9: It's hard to undervalue the nine points Sasha Kaun contributed for the Jayhawks, as he was the team's most productive low post threat in the first half, and all night he was probably their most consistent. He backed down good buddy Aleks Maric for three baby hooks, finished with nine points and three rebounds.
10: Aleks Maric, who has performed so well in his career against everyone in the Big 12 except for Kansas, couldn't make a case going the other way in his final shot at the Jayhawks. Like the 19 points he scored in the season's first meeting, his 10 points Friday were pretty pedestrian. His six turnovers confirm the effectiveness of KU's swarm around him every time he caught an entry pass.
Just in case you missed it...
Sherron Collins scored 13 points, again bringing some punch off the bench. While he didn't string together a series of buckets in transition to key a run like he had in the last few games, he hit a big three, got to the line and was effective again in drawing contact inside. His late technical foul was inappropriate on his part, but you can also understand to a certain extent his want to vent some frustration on an overall frustrating night
Hopefully you didn't miss it...
There's no better setup for KU to snap out of whatever had a hold of it Friday night than with a rematch against a team it had a firm grasp of on the road exactly one week ago. The Jayhawks take on Texas A&M; in Saturday's semifinals. It could also be a good elixir for Darrell Arthur, who had a cool, calm 16 points and nine rebounds in College Station, scoring in a multitude of ways.
They said it...
Bill Self on what he said to his team at halftime: "I will be real candid, I was very disappointed in our team in the first half. I was disappointed in our team in the first half. I was disappointed how we got frustrated. I was disappointed in our energy level. Not that we weren't trying, sometimes people say you play with lack of energy, that means you don't care. That's not it at all. We played tight. When you play tight, you don't play with much energy. And we have a collection of guys not play particularly well and we started the game off getting the ball two feet and we turn it over. It was just one of those deals where things just didn't go well. But the thing I was most disappointed in, we are athletic enough that we should be a great loose-ball team and they beat us to the loose balls. So to me that's a sign of being sharp and being focused and energetic. We didn't talk about Xs and Os. We just talked about getting back to who we are, if it means as much to you as I think it does. And I thought they performed pretty well the second half, especially starting out."
Mario Chalmers on getting Darrell Arthur more involved offensively: "It's very important to get Shady started. He's one of our key players. Tonight, they were double-teaming the posts, and it didn't give him a lot of good looks or a lot of good touches, so he was kinda out of sync the whole game."
Mario Chalmers on the feeling after winning: "There's no disappointment. We got the victory, that's all that matters. Next game, we can't come out and play like that. We've got to start it off right."
Darrell Arthur on how valuable his offense is when it's there: "I think it's pretty valuable, because we've got to be versatile with in and out, and I've got to be able to score buckets. I missed a lot of easy buckets, and I got a lot of opportunities to score, but I didn't capitalize on them."
Russell Robinson on a slow start to the postseason: "This is our welcome to the postseason. Postseason's always a different atmosphere. I've got to give Nebraska credit. They came out with a lot of energy, outplayed us on both ends of the floor early in the game, and we expected it to be a tough game and they definitely played us well. Now that we know, we've got to find a way to come out early."
Copyright 2018 The Lawrence Journal-World. All rights reserved. This material may not be published, broadcast, rewritten or redistributed. We strive to uphold our values for every story published.