Photo Gallery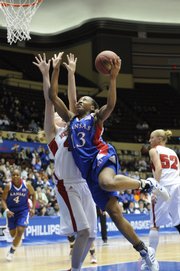 KU women vs. Nebraska
Kansas City, Mo. — Same old Kansas University women's basketball team. Too many turnovers. Too many fouls. Too many :
Wait a minute. The Jayhawks won.
Kansas overcame 24 turnovers and 23 fouls to stun Nebraska, 73-67, in the first round of the Big 12 conference tournament on Tuesday night at Municipal Auditorium.
"I said if we turned it over 23 times we'd lose," KU coach Bonnie Henrickson said, "and we turned it over 24 times."
So how did the Jayhawks win? By shooting lights out. They wound up making 29 of 54 shots for a torrid 53.7 percent.
"We got high-percentage shots," Henrickson said, "and we made 65 percent in the second half."
For a stretch of about six minutes early in the second half, the 11th-seeded Jayhawks looked like the Big 12 regular-season champions. They seemingly couldn't miss, making nine of 12 shots.
At one time, Kansas scored on seven straight trips down the floor. After Kelly Kohn converted a conventional three-point play, Kansas led the shocked Huskers, the tourney's No. 6 seed, by 17 points at 52-35.
"We dug ourselves a hole," NU coach Connie Yori said, "and battled back, but basically ran out of time."
Nebraska came on like gangbusters late, but couldn't cut more than 13 points off the Jayhawks' 17-point bulge.
In scoring 73 points, the Jayhawks accumulated a season-high against a Big 12 team. The previous high was in a 70-56 victory over Colorado in Allen Fieldhouse.
And the Jayhawks did it in spite of those two-dozen turnovers. But Nebraska turned it over 17 times, and KU converted those NU giveaways into 33 points. The Huskers netted only 13 points off KU's miscues.
Perhaps even more surprising was that Kansas was able to win with a sub-par game from leading scorer Danielle McCray, who missed nine of 12 shots - and went 0-for-6 from three-point range - and ended with just nine points, about five below her average.
Yet eight of the nine players Henrickson used scored. The lone Jayhawk who failed to collect at least one point was back-up guard Ivana Catic, and she played only six minutes.
Senior Taylor McIntosh and soph Sade Morris were KU's scoring leaders with 13 apiece. Kohn came off the bench to score 11, including a crucial three-pointer with about 41â2 minutes left when the Huskers were mounting their comeback.
"I don't know if I can tell you how great it felt," said Kohn who had been battling an ankle injury since around the turn of the year.
Kohn hasn't started a game since mid-December, but the 5-foot-9 sophomore was close to assuming that role again.
"I honestly thought about starting her," Henrickson said, "but she came to practice and said her ankle was hurting as much as when she first hurt it."
Kohn stepped up, but so did a couple of other reserves. Freshman Nicollette Smith had nine rebounds, second only to McIntosh's team-high 11. And soph Porscha Weddington came off the bench to match her career-high with six points.
Now 16-14 going into tonight's 8:30 p.m. quarterfinal against Oklahoma State, the Jayhawks are all but assured of earning a berth in the WNIT.
"I think so," Henrickson said. "Texas Tech and Colorado both lost today, and they have the same record we do so, yes, I think so."
For the first time in league tournament history, both the No. 11 and No. 12 seeds won in the first round. No. 12-seed Missouri staggered Oklahoma earlier in the day.
"Is it not fitting for the year that this league has had?" Henrickson said. "There's probably not a coach in the conference that's probably real surprised."
Nebraska's Yori was less conditional in her assessment.
"That's the story of the season in the Big 12," she said. "That's not a surprise to anyone."
Copyright 2018 The Lawrence Journal-World. All rights reserved. This material may not be published, broadcast, rewritten or redistributed. We strive to uphold our values for every story published.